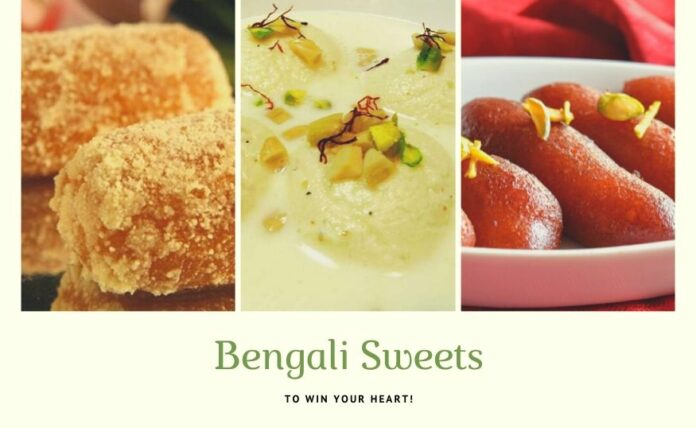 West Bengal offers a wide variety of desserts and sweets. Bengali Sweets are on the top because Bengalis have a sweet tooth, and the sweets they prepare are astounding. For a Bengali, it is never easy to pick only one sweet, and it's not their fault to be honest because all their sweets are merely irresistible. 
Not just Bengalis, even if you are left to select one Bengali sweet, you will be overwhelmed by the various shapes, sizes and different flavours, making it quite challenging to choose one. 
Here is a list of some lip-smacking Bengali sweets that will win over your heart if you try them at least once.
Misti Doi
The first name on the list would definitely be Misti Doi. It is one of the most popular and well-known desserts in Bengal. A blend of thick milk and jaggery creates this heavenly dessert called Misti Doi, making it a must-try. Misti Doi tastes best when served chilled. 
Roshogolla
A soft round sweet made with 'chenna' and then dipped into a sugar syrup. Roshogolla is the most common sweet in every city of India, but the one made in West Bengal tastes the best as it captures the pure essence and emotions. It's soft, spongy and delicious. You can't stop devouring only one. 
Malpua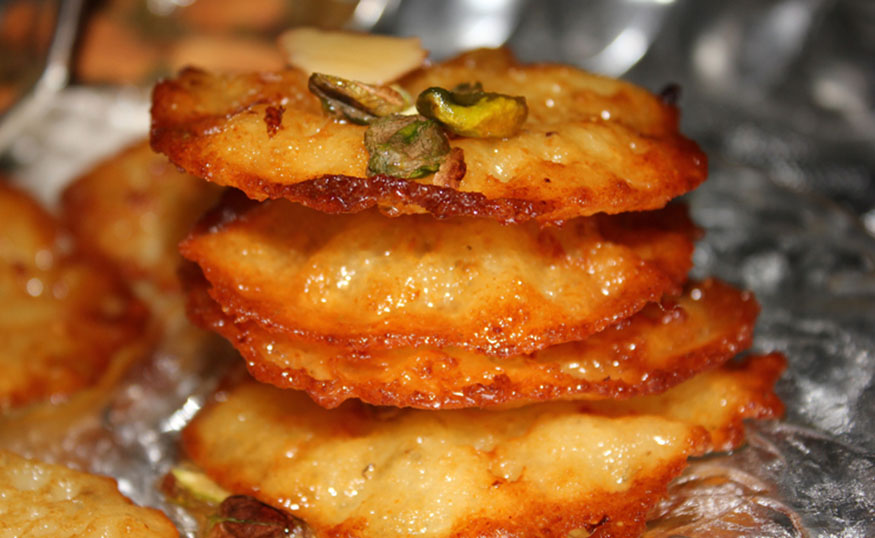 Malpua looks exactly like pancakes; the only difference is that it is deep-fried. Malpua- has syrup-drenched concoction made from flour and sugar. When you bite into it, you can feel that it's slightly crispy and delicious.
Rasmalai
Rasmalai is quite famous in India. It is a Bengali sweet possibly created by K.C. Das, famous from his well-known brand K.C. Das Grandsons. Rasmalai is nothing but small sugary balls of chenna soaked in Malai and then cooked until it's creamy. It is just a heavenly preparation. 
Payesh
The ultimate dessert for birthday boys or girls in Bengal! Bengali's will forget to cut a cake on their birthdays but will always remember to make Payesh. Rice, milk and sugar combine to create this wonderful creation. And if you get a chance to have this during the winter, then you will taste 'Gur' instead of sugar. Not just any Gur, they call it 'Nolen Gurer' Payesh! It's heaven. Never say no to that. 
Pantua
Some people say that maybe it's fried or brown Rasgulla, but you will know the difference when you have one. Unlike Rasgulla, it's made with khoya and is deep-fried. After frying, they get soaked in sugar syrup. The result is just incredible; soft and juicy to the core and ready to delight the heart. 
Amriti or 
Imarti
The name Amriti comes from 'Amrita', meaning manna which means food of God's. Amriti looks similar to jalebi, but they are different in many aspects. It is quite beautiful owing to the spiral designs and decorative circles around the edges. And to make things even better, it is fried in ghee. Can you imagine? As beautiful as it looks, it's delicious too. 
Langcha
You can think of it as Pantua that took a different shape. Langcha needs flour and khoya to acquire its excellent taste. These are also deep-fried and then dipped into the sugar syrup. One Langcha won't be enough once it gets inside your tastebuds.
Chhenar Jilipi
The name has Jilipi in it because it looks similar to Jilipis. But unlike jalebi, this is made with chenna, khoya and flour. It's surprisingly soft and delicious. And if you eat this dish while it's slightly warm, you will surely crave for more. 
Chom Chom
They come in different shapes, size and colour. If you don't have a sweet tooth, then you better avoid this sweet because it's too sugary. You can feel the sugar in every bite. But believe it or not, it's worth a try. There's nothing like it ever!
Mihidana
A smaller version of 'Boondi', but it's nothing compared to it. Mihidana can also be used to make Ladoos, which taste equally good. When you look at Mihidana, you realise they are tiny fried balls, dipped in sugar syrup and then drained. The superb ghee flavour in every bite will keep your heart engaged till the last bit.
Kheer Kadam
Do you like Sandesh? Well, here's an entirely new version of Sandesh at your service! Kheer Kadam is a very special sweet and very close to Bengali's heart. It is an exotic and purely Bengali sweet which is like Sandesh from the outside but has a sweet syrup inside which makes it unique. You take a bite, and you can feel the syrup dripping, molten choco lava is nothing compared to this. You should not miss tasting this sweet; else it's regret for life. 
Dorbesh
These are basically Ladoos but prepared in the Bengali style. It's unique compared to other Ladoos you have tasted till now. To simplify things, consider Boondi Ladoos are called Dorbesh. But these babies have different tastes and textures. You will find these mainly during pujas. 
Kacha Golla
Simple and Tasty! You can make Kacha Golla at home too! It's quite simple. It's pure Sandesh which is soft and will melt when you take a bite. Kacha Gollas are perfect for people who do not have too much of a sweet tooth because it has less sugar compared to others. 
Kalo Jam
Non-identical twin of Gulab Jamun. The sweet looks like a black ball but tastes damn delicious. They are soft and spongy. Try it someday to feel the wonderfulness.
When it comes to Bengali sweets, it has a long list that you can try. But these 15 sweets are common, popular and the most beloved confectionaries of all time. 
Add these Bengali Sweets to your food bucket list! Because I'm sure you don't want to miss it. Moreover, these 15 sweets are always readily available in West Bengal.