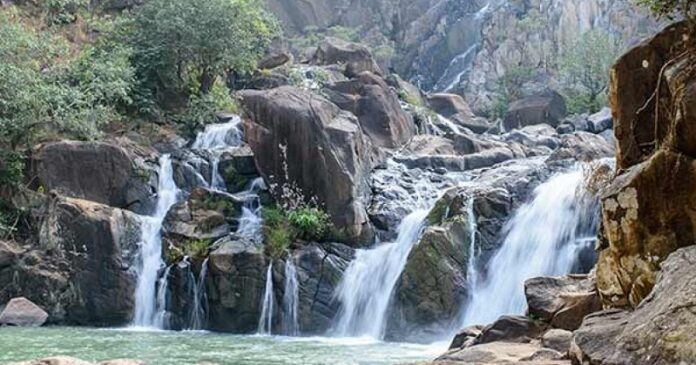 Jharkhand, often known as "The Land of Forests," is a must-see for nature and animal aficionados.
This
naturally
rich state, blessed with unrivaled beauty such as hills, mountains, woods, and waterfalls, makes for an ideal holiday location, particularly for those seeking a reunion with nature
.
Jharkhand's immense natural beauty, as well as its
numerous
attractions such as religious shrines, museums, and wildlife sanctuaries, all, contribute to Jharkhand tourism
.
This East Indian state got created out of the southern region of Bihar, resulting in a state with a mixed culture and a dominating tribal population
.
Here is the list of places you must visit while in Jharkhand.
1. Deoghar
Deoghar, a prominent religious site in Jharkhand, is home to Temple Baidyanath, one of the 12 Jyotirlingas
.
Baidyanath Dham in Deoghar is most well-known during the Shravan month of the Hindu Lunar Calendar, when millions of devotees bring holy water for the Linga in Pitchers called Kanwads, and thus known as Kanwariyas, to perform the sacred ritual of Rudrabhishek [The Holy Bath] during this holy month
. Deoghar is also regarded as "Jharkhand's Cultural Capital."
Best Time to Visit:
July – March
Things To Do:
The top things to do in Deoghar are Baidyanath Dham, Nandan Pahar, Tapovan Caves and Hills, Naulakha Mandir, Basukinath, Satsang Ashram
.
Nearest Airport:
Ranchi Airport
Nearest Station:
Baidyanath Dham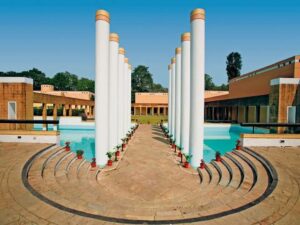 Jamshedpur, Jharkhand's largest metropolis, is an
artistically
pleasing township with appealing infrastructure and landscape
. Jamshedpur, India's first planned city, it's juxtaposed against the beautiful Dalma Hills.
It is the world's eighth-largest steel manufacturing company as well as the world's eighth-largest steel manufacturing company
.
In 1919, the town of Jamshedpur got named after Jamshetiji Tata, the founder of the Tata industries, which provide most of the city's public services and infrastructure
.
Best Time to Visit: November – February
Things To Do:
Visit Local Parks and Monuments
Nearest Airport:
Jamshedpur Airport
Nearest Station:
Jamshedpur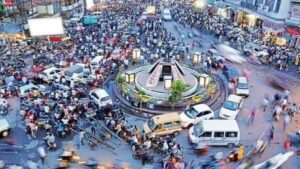 Ranchi is the capital of Jharkhand, a mineral-rich state.
The city got placed at an altitude of 700 meters, was
previously
known as Bihar's summer capital due to its altitude, waterfalls, surrounding forest, and the beautiful river Subarnekha flowing past
.
There aren't many tourist attractions in Ranchi, but because of improved flight connectivity, the city's natural environs are growing
increasingly
popular among visitors
. The weather is lovely here in the evenings and at night. The city is
extremely
proud of the fact that it holds 40% of the country's entire mineral reserves.
Ranchi Hill, Kanke Dam, Tagore Hill, and Hudru Falls, Hatia Museum, and Tribal Research Institute and Museum are among the city's most prominent attractions
.
Best Time to Visit:
July – March
Things To Do:
Checkout Various waterfalls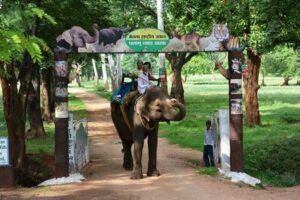 Betla National Park is a lovely national park in Jharkhand that's stretched out over the hilly terrain of the scenic Palamau district, west of Ranchi
.
The flora and animals are enough to mesmerize any tourist, and wild elephants roam free in the thickets of the forest
.
Though there are fewer tigers here, a trip to this old part of Jharkhand is worthwhile since it gives visitors a better understanding of the state's unique tribal traditions
. Bison, Elephant, Tiger, Leopard, and Axis are all abbreviated as Betla. The existence of two forts within the park's grounds distinguishes it from the rest. Observing wildlife from a close distance is one of the main draws here.
Best Time to Visit: November – April
Things To Do:
Safari and Sightseeing
Nearest Station:
Daltonganj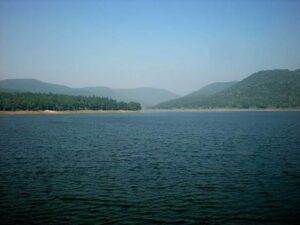 If you've been to Ranchi and Kolkata and have fallen in love with both cities, and now want to experience their enchantment together, don't fret
. Your desire is not in vain, as there is a location that fits that description well!
Ghatshila, located in Jharkhand's East Singhbhum district, has the twisting rivulets and calm waterfalls of Ranchi, as well as the
abundance
of religious worship and rich multicultural background that Kolkata does
. Ghatshila is a town of festivities, and the residents enjoy celebrating together.
Visiting Ghatshila means not only getting to spend quality time in nature, surrounded by mystical waterfalls and scenic hills, but also getting to pay homage to deities in old historical temples
.
Best Time to Visit:
February – November
Things To Do:
Natural Sightseeing and Religious Sites.
Nearest Station:
Ghatshilla
6. Shikharji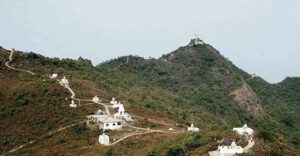 Shikharji is one of the holiest pilgrimage places for Jains and it's located atop the Parasnath Hill, the tallest mountain in the state of Jharkhand, in an inland area of rural east India, in the Giridih district of Jharkhand
.
It's said that twenty of the twenty-four Jain Tirthankaras gained moksha (liberation from the cycle of rebirth) here, along with several other monks, making it one of the most important and sacred sites for Jain Tirthas
. Shikharji is the highest mountain in the state, rising 1,350 meters above sea level.
Best Time to Visit:
November – February
Nearest Station:
Madhuban
Dasham Falls, also known as Dassam Falls, is a spectacular waterfall in the state of Jharkhand that is a tributary of the Subarnarekha River
. It's located near the Tamara village in the Ranchi district. The waterfall, which cascades down 144 feet, exudes serenity, peace, and calm.
The land surrounding the location is
densely
forested, making it a suitable picnic spot in the neighborhood
. You'll have to climb a flight of stairs to get there. You can also take a break
in between
and admire the breathtaking environment.
The waterfall is
essentially
a Nick Point, also known as Knick Point, which implies that it has grown over time as a result of a longitudinal break in the rocky slopes
.
Best Time to Visit:
July – March
Things To Do:
The waterfall
Netarhat, located in Jharkhand's Latehar district, is the highest point of the Chotanagpur plateau, also known as the Queen of Chotanagpur
.
It is well recognized for the sunrise and sunset vistas it provides, particularly during the summer
.
Traveling by road from Ranchi to Netarhat will take you across seven hills and more than 96 kilometers
. Netarhat got classified as a lesser-known tourist destination. Netarhat is about 156 kilometers west of Ranchi and 210 kilometers from Daltonganj. It is also known for the renowned Netarhat Residential School, which got founded in 1954.
Best Time to Visit:
October – March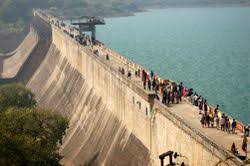 Massanjore is a town in the Indian state of Jharkhand.
The most popular tourist destination here is the Massanjore dam, which gets placed close over the Mayurakshi River in Jharkhand's Dumka district
.
Because it got completed with Canadian aid in 1956, this dam is sometimes known as the 'Canada Dam' or the 'Pearson Dam
.'
It is approximately 155 feet tall and 2170 feet long, with a land area of around 16,650 acres and a capacity of 500,000 acres
.
Best Time to Visit:
All Year
Things To Do:
Rock Climbing, Swimming.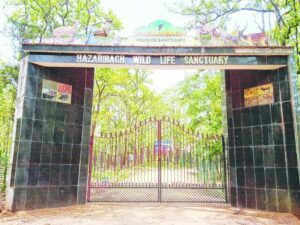 Hazaribagh is a beautiful place with dense forests and natural formations such as rock formations and lakes. It's located in the Chhota Nagpur plateau, 93 kilometers from Ranchi. The forests in Hazaribagh are mostly untouched and are at their most natural and lush state, teeming with flora. It's situated on the central plateau at a height of two thousand meters above sea level (one of the three divisions of the Chotanagpur plateau). There are adamant rock hills that are lush green with a hint of dirt and rocks. The main mountains are Jilinjia (3057 m) and Chandwa (2816 m).
Best Time to Visit:
October – March
Things To Do:
Trekking, Sightseeing.