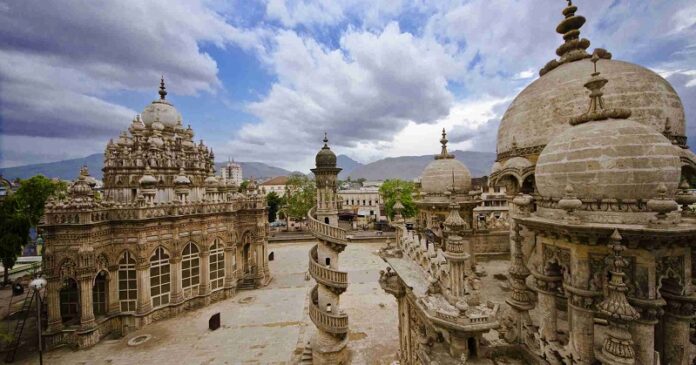 Gujarat, which lies between Maharashtra and Rajasthan on India's western coast, was not on the tourist map until lately. However, the advent of the Statue of Unity and a successful series of marketing campaigns starring Bollywood superstar Amitabh Bachchan have changed this. The state has seen a considerable increase in tourist interest. Gujarat has a lengthy and fascinating history that dates from the Harappan Civilization and the founding of coastal commercial ports between 2400 and 1900 BC. Warriors communities arrived much later and built kingdoms in the state. They were followed by the Mughals, the British, and the sultanates of Delhi and Gujarat.
Here is the list of some of the best places to visit in Gujarat.
1. Ahmedabad Old City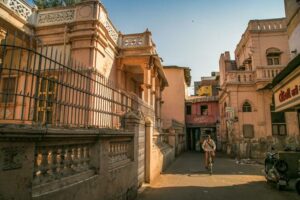 In 2017, Ahmedabad was named India's first UNESCO World Heritage City, defeating Delhi and Mumbai. Sultan Ahmad Shah established the city's fortified Old City in the 15th century, and it now houses Hindu, Islamic, and Jain groups. The Old City is separated into districts called pols (historic residential neighborhoods with winding lanes and carved wooden homes). Some of India's best examples of Indo-Islamic architecture and Hindu Muslim art can be found here. You may learn about the city's history on this intriguing Ahmedabad Heritage Walk. You can also stay in a historic mansion, such as the French Haveli, for the night. The Gujarat weather during January and February is amazing.
Location – Near modern-day Ahmedabad.
Things to experience –  Ahmedabad Heritage walk.
2. Baroda (Vadodara)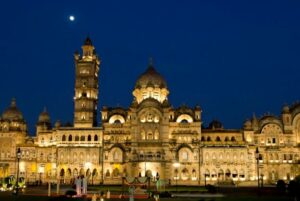 The city of Baroda (now Vadodara) is well-known for its regal history. The Gaekwad royal dynasty established their dominion there in the 18th century, and their sprawling Laxmi Vilas Palace displays towering Indo-Saracenic architecture. It sits on 500 acres of parkland and is said to be India's largest private residence. The Coronation Room, Gaddi Hall (which houses the thrones of previous kings), Darbar Hall, and the Royal Armoury are all open to the public every day. The audio guide is included in the 200 rupee ticket price. Madhav Baug Palace's homestay offers an authentic heritage experience.
Location – 115km southeast of Ahmedabad via the Ahmedabad Vadodara Expressway
Things to experience – Baroda is also known for its art scene and vibrant Navratri festival Garba dances.
3. Statue Of Unity, Kevadia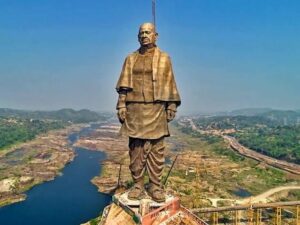 The world's tallest sculpture, devoted to Indian autonomy lobbyist Sardar Vallabhbhai Patel (1875–1950), was finished in 2018. At 182 meters tall, it's twice the size of the Statue of Liberty. Patel was the principal Deputy Prime Minister and Home Minister of autonomous India and is profoundly respected for his authority in bringing the 562 august territories of India together. There's additionally been a cheering focal point of the strengthening of neighborhood ladies, through preparing and arranging of business. Facilities are given in extravagance makeshift camps, lodgings, and nearby homestays.
Location – About two hours (90km) southeast of Vadodara.
Things to experience – valley of flowers, forest with native trees, children's park with train and mirror maze, safari park and zoo, zip-lining, white water rafting, etc.
4. Champaner-Pavagadh Archaeological Park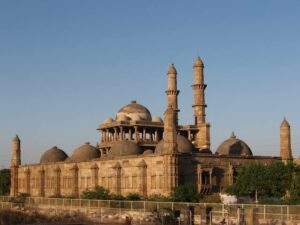 Champaner and Pavagadh, a lesser-known UNESCO World Heritage Site, is rich in historical, architectural, and archaeological riches. This ranges from the 8th to 14th centuries from both Muslim and Hindu traditions. Among these are a hill castle, palaces, houses of worship (the Jama Masjid is one of Gujarat's most beautiful mosques), residential neighborhoods, reservoirs, and step wells. Stay at Champaner Heritage Resort or Jambughoda Palace hotel if you wish to spend time in nature.
Location – An hour northeast of Vadodara.
Things to experience – hill fortress, palaces, Jama Masjid, etc.
5. Chhota Udepur District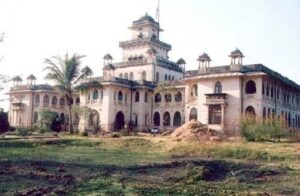 Chhota Udepur is located in Gujarat's tribal region. It is best visited during the Holi holiday when tribal festivals erupt across the district. On Saturdays and Mondays, tribal marketplaces are also held there. The Bhasha Research and Publication Center's Adivasi Academy in Tejgadh hamlet of Chhota Udepur is a must-see for anyone interested in India's tribal heritage. Musical instruments, paintings, sculptures, textiles, representations of religion, and agricultural equipment are all part of the collection. The museum's Bhasha Van forest of languages is another feature. The Kali Niketan Palace Hotel is a great place to stay.
Location – Eastern Gujarat. About two and a half hours east of Vadodara.
Things to experience – The Bhasha Van forest of languages.
6. Sun Temple, Modhera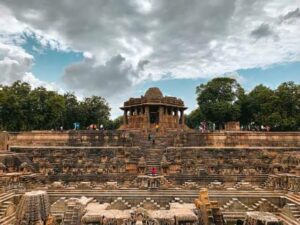 One of India's most important sun temples can be found in Modhera village. The temple is dedicated to Surya, the Sun God, and was built in the 11th century by Solanki dynasty monarchs. This massive structure is comprised of a carved stepping tank, assembly hall, and main shrine. It is encrusted with beautiful stone carvings. The sanctum is positioned so that it receives the first rays of the morning sun at the equinox.
Location – Northern Gujarat. About two hours north of Ahmedabad.
Things to experience – The peaceful Modhera village.
7. Rani ki Vav (the Queen's Stepwell), Patan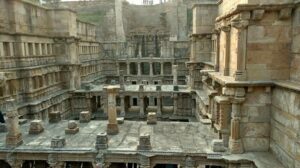 Rani ki Vav is a UNESCO World Heritage Site and an abandoned stepwell from the 11th century. During the Solanki dynasty, it was also built by his widowed wife, ostensibly in memory of monarch Bhimdev I. The stepwell consists of seven flights of stairs and panels containing over 500 major sculptures and over 1,000 minor works. The stepwell was flooded by the nearby Saraswati River and silted up until the late 1980s when it was discovered. When the Archeological Survey of India excavated the site, the carvings were discovered in perfect condition.
Location – Northern Gujarat. About three hours north of Ahmedabad (128km) and 50 minutes north of Modhera (35km).
8. Sidhpur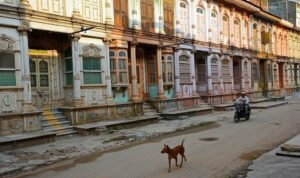 The colorful century-old houses of the affluent Dawoodi Bohra Muslim sect will please architecture fans in Sidhpur, a town stuck in time. Because their owners have gone abroad, many of the residences remain vacant. Sidhpur is a Hindu pilgrimage town on the banks of the sacred Saraswati River. Temples and bodies of water dot the landscape. The Rudra Mahalaya Temple ruins, with their tall carved pillars and torans, are a prominent attraction.
Location – Under two hours east of Patan. It can be visited as part of a Patan and Modhera circuit.
Things to experience – The ruins of 10th century Rudra Mahalaya Temple.
9. Idar Hill Fort, Sabarkantha District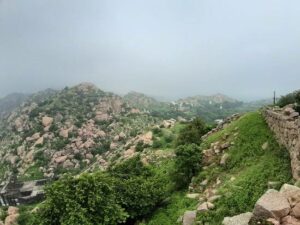 The village of Idar, at the southernmost tip of the Aravali mountain range, has been fortified by massive rocks for generations. A magnificent but difficult journey through the rocks to the hill's summit (Idariyo Gadh) takes you past the ruins of several palaces and temples. In addition, the town is well-known for its handcrafted wooden toys. They can be purchased at the market near the clock tower.
Location – Northern Gujarat. About two hours east of Patan, near the Rajasthan border. It's on the way to Mount Abu in Rajasthan.
Things to experience – A scenic but strenuous climb to the top of the Idariyo Gadh.
10. Polo Forest, Sabarkantha District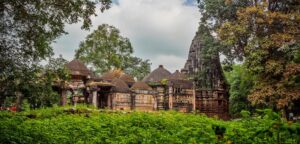 Trekkers can explore Polo Forest, one of Gujarat's best-kept secrets, to see ancient Hindu and Jain temples hidden deep within the jungle. It was originally known as Abhapuri, a city founded in the 10th century by Idar monarchs and later overrun by Marwar's Rathod Rajputs in the 15th century. The best time to visit is between September and December, after the monsoon when the vegetation is at its peak.
Location – Northern Gujarat. About an hour northeast of Idar 45km, near Vijaynagar. It can be reached in three and a half hours from Ahmedabad 156km.
Things to experience – Polo Forest.
11. Kutch Region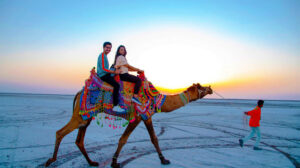 Because of its vast expanse of primarily barren and unforgiving desert landscape, the Kutch region of Gujarat is commonly referred to as India's "Wild West." The name Kutch or Kachchh comes from the fact that it alternates between wet and dry conditions. Kutch is dominated by the Great Rann of Kutch famous for its salt desert and the smaller Little Rann of Kutch famous for its Wild Ass Sanctuary.
Location – Northwest Gujarat. Bhuj is about seven hours west of Ahmedabad. It has an airport.
Things to experience – The port town of Mandvi, and the Dholavira ruins of an ancient Indus Valley.
12. Dwarka

Dwarka is the first capital of Gujarat and the ancient dominion of Lord Krishna. It is one of India's seven ancient Sapta Puri religious cities and one of the four most important Char Dham Hindu pilgrimage sites. The Krishna Janmashtami festival is a big deal there. The Dwarkadhish Temple, also known as Jagat Mandir and erected in 200 BC, is highly notable. At the edge of the holy water, Gomti Ghat is a sight to behold, with decked camels, tea shops, and seashell jewelry vendors. Shivrajpur Beach, just north of Dwarka, was recently awarded an international Blue Flag for safety and cleanliness.
Location – Western Gujarat, at the mouth of the Gomti River on the Arabian Sea. It's about three hours west of Jamnagar.
Things to experience – Shivrajpur beach.
13. Narara Marine National Park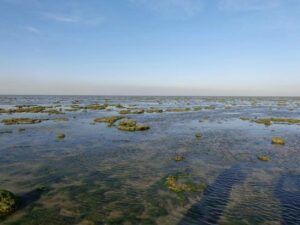 Marine National Park is a remote and off-the-beaten-path location along the coast on the way to Dwarka. It was the first national park in India when it was formed in 1982. Despite this, few individuals are aware of it. The national park consists of 42 islands, 33 of which are bordered by a coral reef, and is home to a wide variety of marine and avian species. However, tourists are only allowed to visit a few of the islands. Narara Island, the largest, is reachable by automobile and a hard walk during low tide. Prepare to wade through ankle-deep water on the seabed if you visit in the winter.
Location – Western Gujarat in the Gulf of Kutch, about an hour west of Jamnagar.
Things to experience – Pirotan Island.
14. Somnath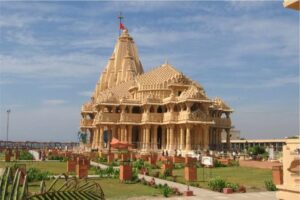 Somnath Temple is a popular pilgrimage destination and one of India's 12 jyotirlingas (Lord Shiva temples where he is adored as a linga of light). It has a spectacular coastline location, exquisite carvings on its sandstone architecture, and an intriguing history. The temple was repeatedly destroyed and rebuilt by Islamic invaders, with the final reconstruction taking place after India gained independence from the British. Maha Shivratri is widely celebrated in February or March. Every year on Kartik Purnima (the full moon night in November), a vibrant religious fair is held, complete with tiny children dressed as Lord Shiva and plenty of food.
Location – Southwest Gujarat.
Things to experience – Maha Shivratri.
15. Gir National Park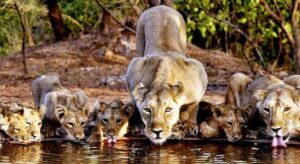 Gir National Park is one of India's most popular wildlife destinations, It is home to the Asiatic lion which is found nowhere else on the planet. Conservation efforts have resulted in an increase in their population. Gir is the largest dry deciduous forest in western India. There is also a diverse range of other fauna, including over 300 different species of birds. You have the best chance of seeing a lion if you visit between December and May, but April and May can be extremely hot. Safaris are available every day. This Gir travel guide can assist you in planning your vacation. Gujarat tourism has said that the national park is one of the top-rated Gujarat tourist places.
Location – Southwest Gujarat, under three hours northeast of Somnath. It's inland from the beaches of Diu. The closest airport is in Diu.
Things to experience – Safaris.