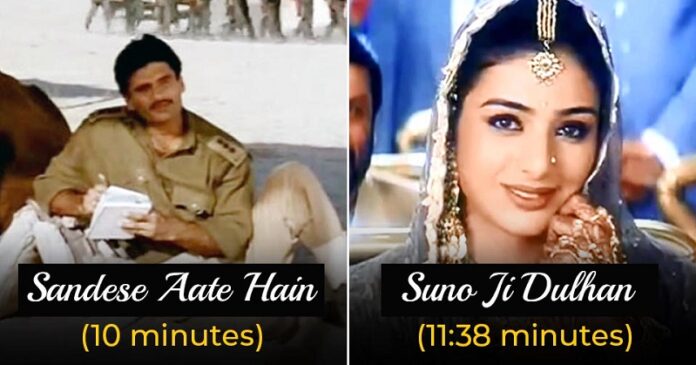 Bollywood has delivered its audience with some of the most soulful music globally, but recently they have also been criticized for remaking music. An average Bollywood song can be about 3 to 5 minutes long. Still, some composers take an extra mile in creating an original piece and go beyond the average song length and create the Longest Songs.
So, here are some of the longest songs ever written and composed in Bollywood. 
1. Didi Tera Devar Deewana (7:38 minutes)
Composed by Raam Laxman and Lata Mangeshkar, this song from "Hum Aapke Hain Koun" has ruled weddings for decades. The iconic duo of Salman Khan and Madhuri Dixit performed in the song and made it even more joyful.
2. Kabootar Ja Ja Ja (7:47 minutes)
Composed by Raam Laxman, this song is about 8 minutes long and is one the most iconic songs from "Maine Pyar Kiya". The song has a fun vibe and could be stuck in your head for days.
3. Kehta Hai Baabul (8:00 minutes)
Amitabh Bachchan gave everything to deliver this melodious song. The soulful and emotional voice in this eight-minute song can bring you tears. The song is about a daughter leaving her home after marriage. 
4. Piya Tose Naina Laage Re (8:29 minutes)
The music composed by S D Burman, sung by melodious Lata Mangeshkar, and performed by beautifully talented Waheeda Rahman, this song can leave you hooked for eight minutes and thirty seconds. There is no room for error.
5. Humein To Loot Liya Mil Ke Husn Waalon Ne (8:41 minutes)
The late 1950s and 1960s were some of the most melodic decades of the Hindi music industry. In 1958, this track Humein To Loot Liya from the movie "Al Hilal" became a super hit. Sung by Ismail Azad, the song is still remembered for its fun and comical music.
6. Ek Saathi Aur Bhi Tha (8:32 minutes)
Anu Malik composed the music. Sonu Nigam sang the song, and it pays tribute to the martyr who sacrificed everything during the Kargil War in 1999. The song is over eight minutes and could easily bring you tears.
7. Soni Soni (9:10 minutes)
The song is from the iconic Shah Rukh Khan and Amitabh Bachchan movie "Mohabbatein". The movie's soundtrack is evergreen. And this Holi track is an entertaining and enjoyable song composed by Jatin- Lalit. Fun fact: About eight singers lend their voice in creating the nine-minute-long piece.
8. Antakshari (9:00 minutes)
Antakshri from "Maine Pyar Kiya" is a song battle between Salman Khan and Bhagyashree. Over nine-minute long, this song is composed by Raam Laxman. The song has its place in music history for its entertaining video and performances.
9. Panchi Nadiya Pawan Ke (9:50 minutes)
Composed by Anu Malik and Lyrics given by Javed Akhtar, the song is from the film "Refugee". Its sung by Alka Yagnik and Sonu Nigam. The beautiful piece is about two lost souls in love and leaving all barriers behind to be together.
10. Senti Wali Mental (10:05 minutes)
This song is from the movie "Shaandaar" which is composed by maestro Amit Trivedi. The song is over ten minutes and features Alia Bhatt and Sanah Kapoor. It is about a boy and girl arguing about each other.
11. Sandese Aate Hai (10:53 minutes)
Who hasn't heard this song? The song is considered one of the best songs for depicting army life. Composed by Anu Malik, this song is about soldiers waiting for a letter from their beloved family. It's a very emotional and inspiring song.
12. Aap Ke Kamre Mein (11:07 minutes)
The song is iconic every second. Sung by the legendary duo Kishore Kumar and Asha Bhosle, it is composed by RD Burman. It is from the movie "Yaadon Ki Baaraat" and is a beautiful number.
13. Sunoji Dulhan (11:36 minutes)
The song is about a newly married bride being introduced to her new family. It is from the iconic movie "Hum Saath Saath Hain". The song features Saif Ali Khan and Karishma Kapoor and is composed by Raam Laxman.
14. The Medley (12:09 minutes)
From the movie "Mujhse Dosti Karoge", this piece is in a sangeet ceremony and a medley of some iconic songs of Indian music history. Beautifully compiled by Lata Mangeshkar, Udit Narayan, Sonu Nigam, and Pamela Chopra. The song features Hritik Roshan, Kareena Kapoor Khan, and Rani Mukharjee. The Medley is over twelve minutes long.