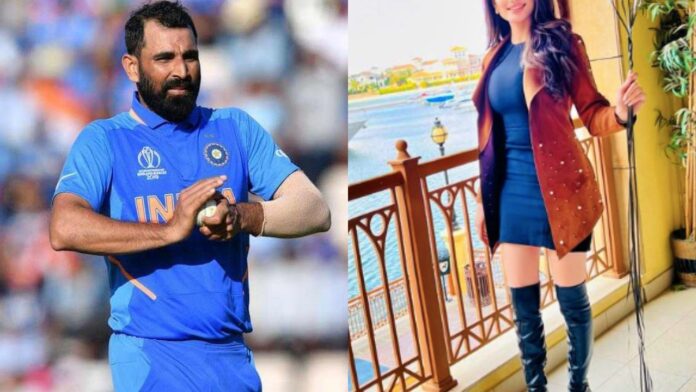 During the 2023 World Cup, Team India's performance has been exceptionally outstanding. It has been observed that India has not lost any match in the World Cup so far. Therefore, some sports enthusiasts and experts believe that this time Team India could be the champions of the World Cup. In the match India vs Sri Lanka, India achieved a historic victory, with Mohammed Shami's bowling playing a significant role in securing the win. Bowling skills of Mohammed Shami have garnered a lot of admiration not only from sports lovers but also from some movie stars.
What a player 👏🏻👏🏻👏🏻🔥🔥🔥 @MdShami11 #INDvSL https://t.co/aEx5zozTO7

— Wazhma Ayoubi 🇦🇫 (@WazhmaAyoubi) November 2, 2023
Recently, an Afghan actress Wazhma Ayoubi, also praised Mohammed Shami's bowling performance. Wazhma Ayoubi is a huge fan of Team India and is often seen posting about the cricket team on social media. However, during the India-England match, Mohammed Shami delivered an aggressive bowling performance. Later, the actress expressed her admiration for Shami on social media and shared a picture of him on her old account, stating that he is the boss of the field and an excellent player.
Sharing her joy over Shami's exceptional performance, Wazhma expressed her admiration on Twitter, commending the right-arm pacer for his remarkable role in India's resounding victory. "What a player @MdShami11 #INDvSL" she tweeted, echoing the feelings of countless cricket fans who celebrated Shami's outstanding demonstration of talent and resolve.
Who is Wazhma Ayoubi?
Born in Afghanistan in 1995, Wazhma Ayoubi is a versatile women, at the age of 28, embodies the spirit of a young and ambitious generation. She is renowned for her diverse roles as a model, digital influencer and entrepreneur.
View this post on Instagram
Wazhma Ayoubi's life journey is as enthralling as her passion for cricket. She embarked on an extraordinary venture, transitioning from the rugged terrain of Afghanistan to the bustling city of Dubai. Her decision to relocate to the United Arab Emirates was motivated by her pursuit of independence and professional advancement.
View this post on Instagram
In Dubai, Wazhma's enthusiasm for cricket took on a new dimension as she had the opportunity to witness the Asia Cup 2022 and show her support for the Afghan cricket team. Concurrently, she left a significant mark in the fashion industry by establishing her own brand, "Laman Clothing," demonstrating her entrepreneurial skills and business acumen.
Mohammed Shami's performance in World Cup so far
Mohammed Shami is an extraordinary talent in Indian cricket, possessing formidable skills as a right-arm fast bowler that strike fear into every batsman. His exceptional performance in the ongoing ODI World Cup 2023 has firmly established him as, if not the best, one of the top bowlers in the tournament.
He featured in the Indian team's playing XI in the match against New Zealand, where he took five wickets against the previously unbeaten Kiwis. In the subsequent game against England, he claimed four wickets. And against Sri Lanka, he secured five wickets while conceding a mere 18 runs and in the recent showdown with South Africa, he managed to take 2 wickets. Amassing 16 wickets in just four matches is undeniably impressive, and as anticipated, this exceptional bowler shattered numerous records with his series of five-wicket hauls.
Read more: This Indian Scientist has connection with Elon Musk son