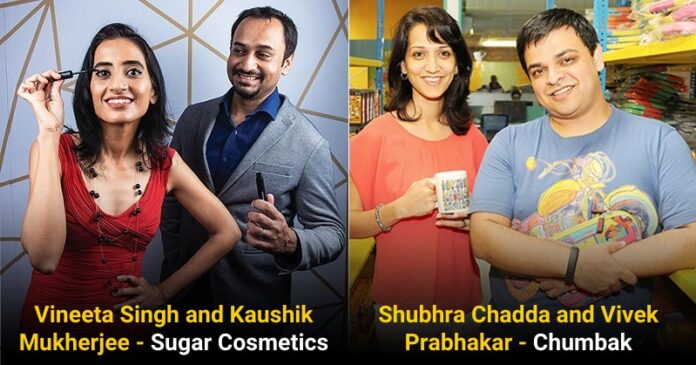 Even if a couple works for the same organization, they are frequently allocated to distinct teams or departments to minimize potential conflicts of interest. Several couples, on the other hand, have developed multi-billion-dollar firms, demonstrating to the world that couplepreneurs can keep their personal and professional lives distinct. Love isn't just for personal lives; as some couplepreneurs have demonstrated, life partners may also start enterprises.
1. Vineeta Singh and Kaushik Mukherjee – Sugar Cosmetics
View this post on Instagram
SUGAR Cosmetics, which specializes in long-lasting makeup, was co-founded by Vineeta and Kaushik. The couplepreneurs launched the business in 2012 with the purpose of producing a brand that caters to the Indian market and skin tones while also taking into account Indian culture, climatic conditions, and way of life. The brand's products are currently available on their website, as well as on key retail platforms like Nykaa and Myntra, as well as in a number of stores and pop-ups across the country, and it has established itself as one of the most popular beauty brands for the general public. Vineeta was recently featured on Shark Tank India as an investor.
2. Shubhra Chadda and Vivek Prabhakar – Chumbak
View this post on Instagram
Shubhra and Vivek are couplepreneurs who began Chumbak with a single store in Bengaluru. Customers keep coming back to the brand for zany desi stuff, such as notebooks, bags, and even garments, perfumes, and beauty products, and the company now has storefronts around the country as well as a strong online presence.
3. Anand Shahani and Mehak Sagar – WedMeGood
View this post on Instagram
While interning at the same company, Anand and Mehak met and married a few years later. WedMeGood got founded in 2014 when they chose to leave their corporate employment. WedMeGood is a website that offers a number of vendors, ranging from photographers to event planners, makeup artists, and more, and serves as a one-stop-shop for couples preparing their big day.
4. Sneh Jain and Aditi Handa – The Baker's Dozen
View this post on Instagram
The Baker's Dozen, an artisanal bakery, was born in Aditi's kitchen. In 2013, Aditi made her first batch of sourdough and realized it was something she wanted to do for the rest of her life. Because of their common enthusiasm for entrepreneurship, the pair met and became life and business partners. They now run one of India's best online bakery systems, with locations around the country and a wide range of sourdough bread, cakes, croissants, butter, and other goodies.
5. Sumedha Jain and Akhil Duggar Jain – Madame
View this post on Instagram
Sumedha joined the Jain Amar Clothing Pvt Ltd, a family-owned business after the couple met through a traditional arranged marriage. Madame Fashions is a subsidiary of the same company, and it was one of the first to sell affordable fashion products such as dresses and shirts.
6. Ghazal Alagh and Varun Alagh – MamaEarth
View this post on Instagram
Life partners Ghazal and Varun Alagh established MamaEarth, a natural skincare and haircare product, in 2016. The company has carved out a niche in a crowded market for its low-cost, unique products that appeal to Indian skin and hair types, such as its onion haircare line, face serums, and more. With a strong presence on social media and online shopping platforms, as well as kiosks in other chain shops, the low-cost brand is constantly increasing. Ghazal was also an investor in the Indian version of Shark Tank, which recently concluded.