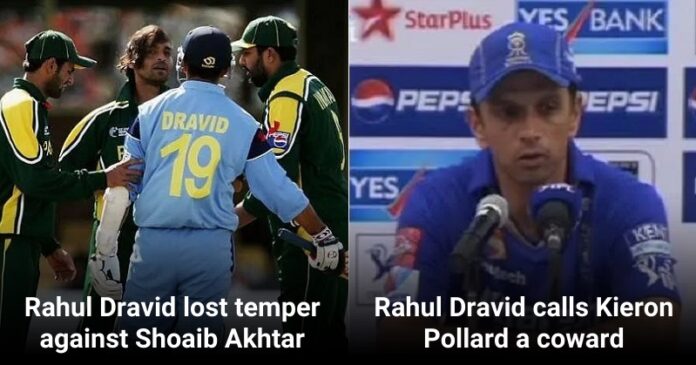 Rahul Dravid is one of the finest cricketers and respected not only for his batting but also for his calm nature. During his playing days, anyone rarely saw Dravid losing his temper. However, there are few instances where he did lose his cool at times.
Here are 5 memorable occasions where the calmest cricketer lost his temper. Take a look at them:
1. Shoaib Akhtar Bears The Brunt Of Dravid's Anger
Pakistani speedster Shoaib Akhtar is always known for his angry attitude especially in matches against India. We all have heard about his attempts to get under Sachin Tendulkar's skin and clashes with Virender Sehwag. However, the highlight was when he was able to get under the skin of Rahul Dravid. Rahul Dravid was the only shining star in the 2004 Champions Trophy. When Dravid tried to take a quick two during Akhtar's over, he found him standing in the path. After that, Dravid loses his calm and asked Akhter to stay out of the way. Later, Pakistani skipper Inzamam-ul-Haq stepped in between to separate them.
2. Dravid Throws His Cap In Anger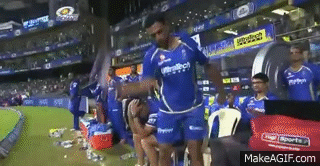 In the matches with Rajasthan Royals, Rahul Dravid always displayed much more emotions than in other games. This incident happened in the 2014 IPL when both the teams were playing against each other. To qualify for the playoffs, Mumbai Indians needed to chase down 190 in 14.3 overs. Dravid was the mentor of Rajasthan Royals and was confident that his team will win the match. However, Mumbai Indian got through it and batsman Aditya Tare hit a six to help his team. Dravid got so angry that he threw his cap on the ground.
3. The Wall Loses His Cool And Flings A Chair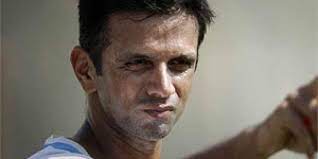 Well, it is weird to see Rahul Dravid throwing things around in anger. However, this incident has really happened because his wife shared this in an interview. Mrs. Dravid revealed that Virender Sehwag once told her that Dravid threw a chair out of anger when India lost a home test to England. Dravid also told about the game to his wife, Vijeta but skipped the chair-throwing part.
4. Mitchell Johnson Raises Dravid's Temper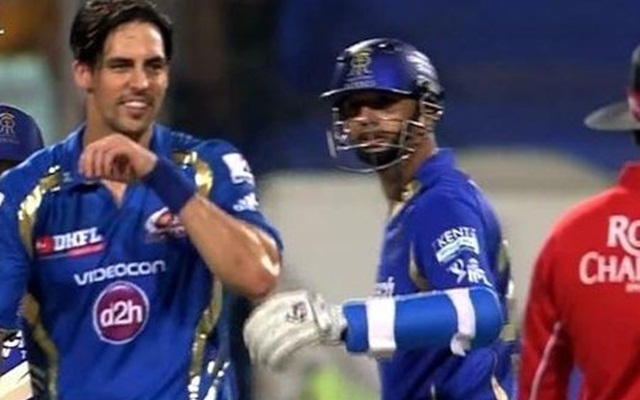 Retired left-arm pacer Mitchell Johnson was an Australian cricketer. His tactics with Indian cricketers worked against some batsmen but it didn't work with a few of the others. The Aussie got into Rahul Dravid's skin in Qualifier 2 of the 2013 edition of the IPL. Dravid smashed a straight drive off in the 3rd over of the Rajasthan Royals innings and Johnson's was bowling. Johnson said something to the batsman and he didn't hold back. He flicked Mitchell Johnson for another four in the very next ball. Then, Dravid walked up to Mitchell and asked if he again wanted to say something.
5. Dravid Voices His Anger Over Kieron Pollard At A Press Conference
This incident again happened when there was an IPL match between Rajasthan Royals and Mumbai Indians in 2013. It again brought the angry side of Dravid, but this time not in the field but at the post-match press conference. Throughout the stay at the pitch, Kieron Pollard, Mumbai Indian all-rounder was continuously nagging Shane Watson, Rajasthan's star player. When Watson got out, Pollard not only gave him a send-off but also went to the Royals later and mocked the Aussie. Then at the press conference, Dravid did not mince his words when he termed a bowler sending off a batsman as an act of cowardice. Well, we all know he was referring to the Pollard-Watson incident.