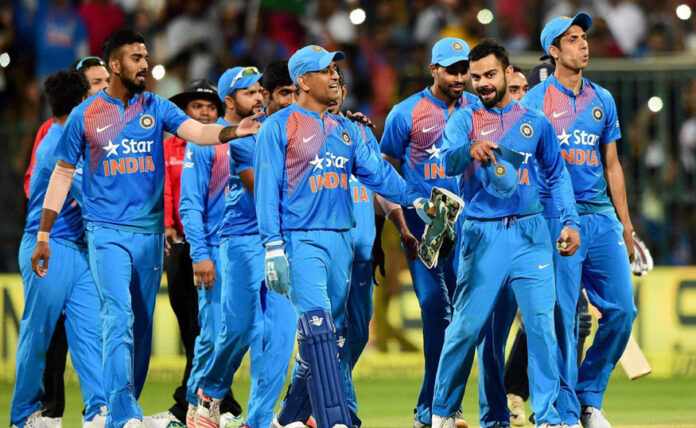 According to an Economic Times article, the BCCI or the Board of Cricket Control for India is currently worth over Rs. 3000 crores. Besides, BCCI is also entitled to receive 22.8% of the ICC's revenue under its revenue-sharing model for the 2105-2023 right cycle. So, it shouldn't come off as a surprise that our Indian cricketers get rewarded with a thick, very, very thick paycheck. They are on par with the richest of the richest sportspersons in the world. Not only do they receive thick paychecks, but they also cash in a tremendous amount of money through brand endorsements and other competitions. Let us have a look into the top ten richest Indian cricketers-
Rohit Sharma – $18 Million
The Mumbai batsman has made his way to the list of A+ players, thanks to his talent and sheer hard work that has earned his team four IPL wins. Sharma gets a massive chunk of his income from BCCI, something that goes without saying and is said to be paid 15 lakh INR per test match, INR 6 lakh per ODI and INR 3 lakh per T20I game. He also cashes in through his endorsements with brands like Maggi, Lays, Nissan, CEAT, Aristocrat, Adidas, etc. generating about INR 7 crore. All this sums up to a whopping total of $ 18 million which translates to 130 crores INR.
Gautam Gambhir- $21 Million
The cricketer-turned-politician has a net worth of about 145 crores INR, which he accumulated over the years from playing both international and domestic games. He played a significant role in the finals of the two World Cups. He not only happens to be one of the wealthiest Indian cricketers but is also one of the richest members of the Lok Sabha.
Suresh Raina- $25 Million
Chennai Super Kings' Raina is yet another cricket star with a thick paycheck. He has earned an estimate of INR 88.7 crore from the T20 matches alone. For this year's IPL match, his valuation was somewhere around 11 crore INR. Raina also cashes in big-time from brand endorsements. It is supposed that he charges about Rs.7 crores per endorsement.
Rahul Dravid- $31 Million
Also widely known as 'The Wall' due to his superhuman ability to bat for long hours, rendering the opponent bowler desperately gasping for air. Dravid is a true gentleman and has most deservedly become one of the most respected cricketers ever to exist. It is only natural that a gem of a man like Dravid is worth millions of dollars.
By 2019, his estimated wealth stood at a whopping Rs170 crores, with a significant chunk of it flowing in from match fees and endorsements. He has also been the coach for the U-19 Indian cricket team and signed a contract as sports commentator with Star Sports for a year. He is also the Brand Ambassador for the Bengaluru ISL team and endorsed several brands like Reebok, Samsung, Pepsi, etc. All this adds up to a staggering $31 million, roughly translating to about 235 crores INR.
Yuvraj Singh- $ 35.5 Million
Yuvraj has played quite a pivotal role in the two World Cup wins. He has dedicated 17 long years to the Indian cricket team and even made a strong come-back after his battle with cancer. The 'Prince of Indian Cricket' broke records of being the highest-paid cricketer in 2016 when Delhi Daredevils paid him a hefty check of 16 crore INR. Since then, he has switched teams on several occasions. All in all, his total net worth is estimated at $35.5 million, translating to about 241 crore INR.
Virender Sehwag – $ 40 Million
Viru is known to be one of India's most aggressive batsmen. Even after his retirement, Viru still relishes a massive flow of income through his brand endorsements, microblogging and career as a coach. He has endorsed brands like Adidas, Boost, Hero Honda and many more. His net worth has hit the 300-crore mark.
Saurav Ganguli- $55.5 Million
Also known as 'Dada', Ganguly played an essential role in reviving the Indian team from the clutches of match-fixing scandals. The all-rounder player retired from international cricket in the year 2008 but took an active part in the Indian Premier League. In 2019, he assumed the position as President of the BCCI. He is also the Brand Ambassador of brands like Puma, Essilor Lens, Senco Gold, etc. that brings his wealth to a whopping $55.5 million.
Virat Kohli- $92 Million
The final countdown begins, with Virat Kohli coming in at the third place with a bank balance of $92 million, that is a whopping 698 crores INR! I wonder what one does with that much money. For Indians, Kohli isn't only a cricketer; he's an emotion. He attracts the spotlight everywhere he goes and has the craziest fans out there. He has, in many ways, transformed the Indian cricket team in the best possible ways.
He is undoubtedly one of the most sought after top-notch cricketers. He has tied up with several brands like Puma, Vicks, Gillette, Gionee; the list goes on and on.
Sachin Tendulkar- $120 Million
Well, where do we even start? He is the God of Cricket and has dedicated 24 long years of his life to the game and his country. His career goes way back to 1989, stepping into the world of cricket at a very tender age of 11. He became India's youngest cricketer at the age of 16 and in 2005, became the first-ever cricketer to score 35 centuries. He is also the one and only cricketer ever to score One Hundred International centuries. It is safe to say that Tendulkar has an extremely long list of achievements and an equally long list of brand endorsements. It shouldn't come off as a surprise that his bank account is stuffed to the brim with over 100 million dollars of crisp cash.
Mahendra Singh Dhoni- $150 Million
Captain Cool tops the list with a staggering wealth accumulation of 150 million dollars. Under his proficient leadership, India emerged victorious in all three titles that include the ICC T20 World Cup, 50-over World Cup and the Champions Trophy.
A considerable number of brands line up to secure endorsement deals with Mahi. Pepsi, Reebok, United Breweries Group, Mastercard, BharatMatrimony, GoDaddy are a fraction of his never-ending list of brand endorsements. He also co-owns the franchise Ranchi Rays in Hockey India League and Chennayin FC Franchise of the Indian Super League.
Our Indian cricketers have spent every ounce of their blood, sweat and tears to turn their lives around. They have carved their talent and an iron will that motivates them to keep pushing their boundaries. For them, the sky is certainly not the limit. While we might be tempted to drool at their bank balance, we should not forget the steadfast hard work and sacrifice it took them to be where they are today. They deserve everything and more.