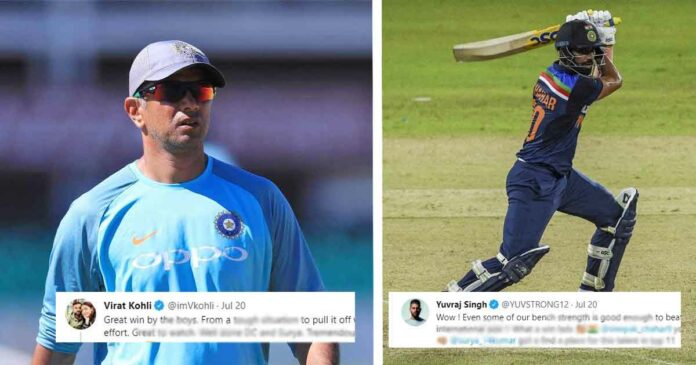 On 20th July, India managed to win against Sri Lanka in a very tight chase. India is currently playing a 3-match ODI series followed by a T-20 in Sri Lanka. Coach Rahul Dravid in an inspiring dressing room speech said that team India responded like champions with its back to the wall. His young side registered a win in the second ODI against Sri Lanka here.
India was reduced to 193 for seven in 36th over while chasing 276 for victory on Tuesday. However, Deepak Chahar (69) and Bhuvneshwar Kumar (19) shared an unbroken 84-run stand with three wickets in hand and five balls to spare.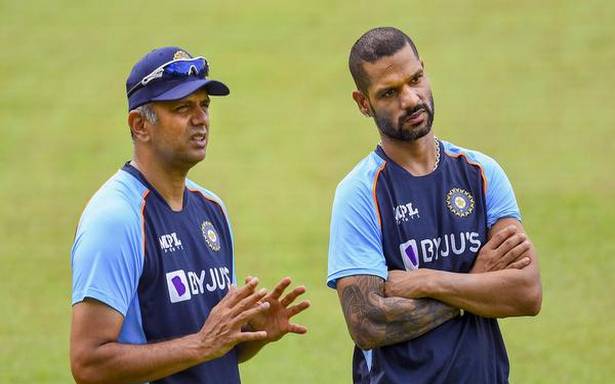 Dravid said in a video posted on BCCI.tv, "Obviously we finished on the right side of the result, which is incredible and fantastic but even if we didn't finish on the right side of the result, it is the fight all the way through was absolutely brilliant, so well done to all of you." He continued, "We said they were going to respond, we knew we had to respect the opposition. The opposition was going to respond, they're also an international team. They responded, and we responded back like a champion team. With our back to the wall, we found a way to break them. So really well done to all of you. Fantastic job."
From raw emotions to Rahul Dravid's stirring dressing room speech 🗣️🗣️@28anand & @ameyatilak go behind the scenes to get you reactions from #TeamIndia's 🇮🇳 thrilling win over Sri Lanka in Colombo 🔥 👌 #SLvIND

DO NOT MISS THIS!

Full video 🎥 👇https://t.co/j2NjZwZLkk pic.twitter.com/iQMPOudAmw

— BCCI (@BCCI) July 21, 2021
Even though it is a big reason to celebrate in and of itself, this is Rahul Dravid's first major coaching assignment with the senior team as well, and he came through. BCCI also shared the images from the series and appreciated them.
WHAT. A. NIGHT 👏 👏#TeamIndia #SLvIND pic.twitter.com/o6Fvn2CrKD

— BCCI (@BCCI) July 20, 2021
Although we are really hoping BCCI releases the full speech at some point but for now, Twitter was flooded with tweets in praise for the Indian team post-match. Even Kohli and Yuvraj couldn't stay behind:
Wow ! Even some of our bench strength is good enough to beat an international side !! What a win lads 👏🏽🇮🇳 @deepak_chahar9 you can bat 👊🏽 @surya_14kumar got a find a place for this talent in top 11 !congratulations skipper @SDhawan25 #rahuldravid and the whole team #INDvSL

— Yuvraj Singh (@YUVSTRONG12) July 20, 2021
Great win by the boys. From a tough situation to pull it off was an amazing effort. Great to watch. Well done DC and Surya. Tremendous knocks under pressure. 🇮🇳

— Virat Kohli (@imVkohli) July 20, 2021
Let's check some of the tweets by the netizens:
How did Deepak Chahar finish the match so well? #deepakchahar #CSK #INDvSL

* CSK Fan : pic.twitter.com/D3x2NJsNRC

— vaibhav (@vaibhav78047037) July 20, 2021
In this Rahul David's team.
There is no one is which is bigger then game.
Everyone is feeling equal and secure.
Hatsoff to present team management.#INDvSL@BCCI @SGanguly99 https://t.co/reEYVPOPdc

— Sourabh Sharma (@professor1008) July 21, 2021
#INDvSL #deepakchahar
Deepak chahar in today's match pic.twitter.com/gAL4ZMgJfy

— Vɩĸʌsʜ Jʌɗʜʌv (@garreeeeb_memer) July 20, 2021
Euphoric scenario in Team 1 when team India won the game. #SLvIND #RahulDravid https://t.co/lCiRozBI23

— Shreepad Bhat (@ShreepadBhat3) July 21, 2021
We need to respect the opposition. They were suppose to respond, and they responded but we found a way to win: Coach #RahulDravid ❤️ https://t.co/wugiHbBxFK

— Sagar Khandelwal (@Khandelw13Sagar) July 21, 2021
Ohhh Wow just wow
What a stunning performance by #TeamIndia Simply amazing

Superb innings showcase by @deepak_chahar9 @surya_14kumar
& Role of mentor played by @BhuviOfficial was outstanding
Last but not list Good to see #RahulDravid on screen#INDvSL pic.twitter.com/Rko0gGaYvx

— Munaf Patel (@munafpa99881129) July 20, 2021
Cheers Guys and again thanks to #RahulDravid sir that you are always with us.🇮🇳 @mohsinaliisb @razi_haider@BCCI #deepakchahar https://t.co/rd3IdnlZOo

— Rishabh Pandey (@rishabhpost) July 21, 2021
WHO is the best coach in INDIAN cricket team#RahulDravid ❤#RaviShastri 🔃 https://t.co/x180knTbt5

— Satish Ch (@SATISH6722) July 21, 2021
CSK blood after all, bound to perform 🦁💛 or else will face this wrath in CSK training camp 🤣 #INDvSL pic.twitter.com/8mdBEESK5O

— BHAVYA (@BhavyaDhoni) July 20, 2021
They responded.. we responded back ❤️ https://t.co/GT8jCFGAtL

— Prashanth (@prashanth_srt93) July 21, 2021
Mickey Arthur In 9 minutes:#INDvSL pic.twitter.com/mZBS6MsPjU

— Prayag (@theprayagtiwari) July 20, 2021
Rahul Dravid sir to #deepakchahar today #INDvSL #BCCI pic.twitter.com/rOCE9u96qs

— Rohit Koninnavar (@_rohit_k18_) July 20, 2021
Later, Deepak Chahar reveals Rahul Dravid's words before he walked out to play against Sri Lanka. He said at the post-match presentation ceremony, "No better way to win the match for the country. Rahul sir told me to play with all the balls. I've played a few innings with India A and I think he has belief in me." He continued, "He told me he thinks I'm good enough to be a No. 7. He has belief in me. Hopefully, in the coming matches I don't have to bat."
Rahul Dravid hugged Deepak Chahar when he finish the yesterday's 2nd ODI match against Sri Lanka. And Looked that happiness of Rahul Dravid.#INDvSL #BCCI #IndianCricketTeam #RahulDravid #Cricket pic.twitter.com/m0jfbqTEcV

— Anshuman™🇮🇳 (@anshuman7345) July 21, 2021
What a sight , Dada as Bcci president , Wall as Indian Coach , Looking Forward For More Surprises that destiny have planned for the vintage fans !#SouravGanguly #RahulDravid #TeamIndia

— Krishh Sakhamuru (@KrishhSakhamuru) July 21, 2021
Groomed by the Legend @msdhoni Polished by the Wall !! #RahulDravid https://t.co/3dV12VIT15

— Shivam Chaudhary (@shivam1213) July 21, 2021
He deserves to be the coach of the Indian Team ❤️
So much respect for this man ❤️
#RahulDravid #SLvsIND #SLvIND #IndianCricketTeam pic.twitter.com/NhgJUw1R1x

— Satyam Mahapatra (@SatyamMahapatr7) July 21, 2021
The video also featured Suryakumar, Bhuvneshwar, and Chahar. They were talking about their experience with the match. Suryakumar said, "I don't have words, I think it is one of the best games which I have been part of, I have seen live… it is an unbelievable victory." He further continued, "Bhuvi, our vintage man and DC, we have been talking about his batting, and today he has proved himself, it was a complete team effort. It was something special from Deepak Chahar."
Dravid can do no wrong according to us, as a player or a coach. And, it makes us even fonder of him.