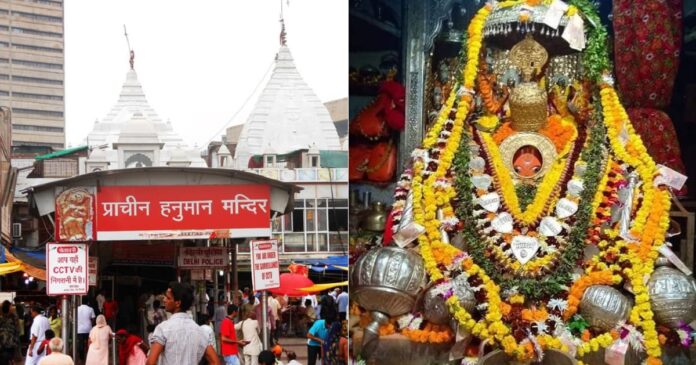 "Sankat kate mite sab peera..Jo sumire Hanumat Balveera"
If you're a Hindu and especially from India then you all must have a strong belief on Hanuman Ji. Hanuman Mandir, lovingly referred to as the 'Home of Hanuman Ji,' is not just a temple, it is a spiritual journey that touches the soul and a place of deep significance and devotion.Lord Hanuman is an incarnation of Lord Shiva and an ultimate devotee of Lord Rama, also the seventh avatar of Narayan.
Famous Hanuman temples can be found in every part of the country. Lord Hanuman devotees from different regions of the world used to visit these temples to seek his blessings and experience the divinity within. In this article, we have mentioned few famous Hanuman Mandir that every devotee of Hanuman Ji must visit.
1. Sankat Mochan Hanuman Temple, Varanasi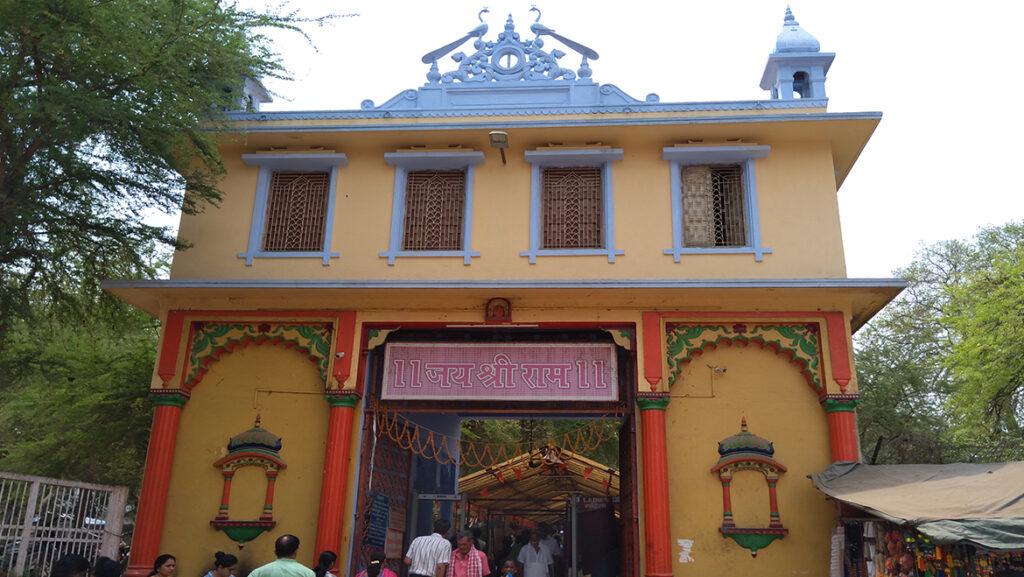 Sankat Mochan Hanuman Temple is located in Varanasi, Uttar Pradesh and is dedicated to Hanuman Ji. 'Sankat Mochan' means 'Reliever of Troubles'. It is strongly believed that if someone with pure intention visit here and pray then Hanuman Ji removes all kind of trouble from one's life. In this temple, One can find Lord Hanuman, ardent worshipper of Lord Ram, stands facing him. It is believed that the author of the Ramcharitmanas, Tulsidas had a vision of Hanuman in the same place.
2. Hanuman Temple, Delhi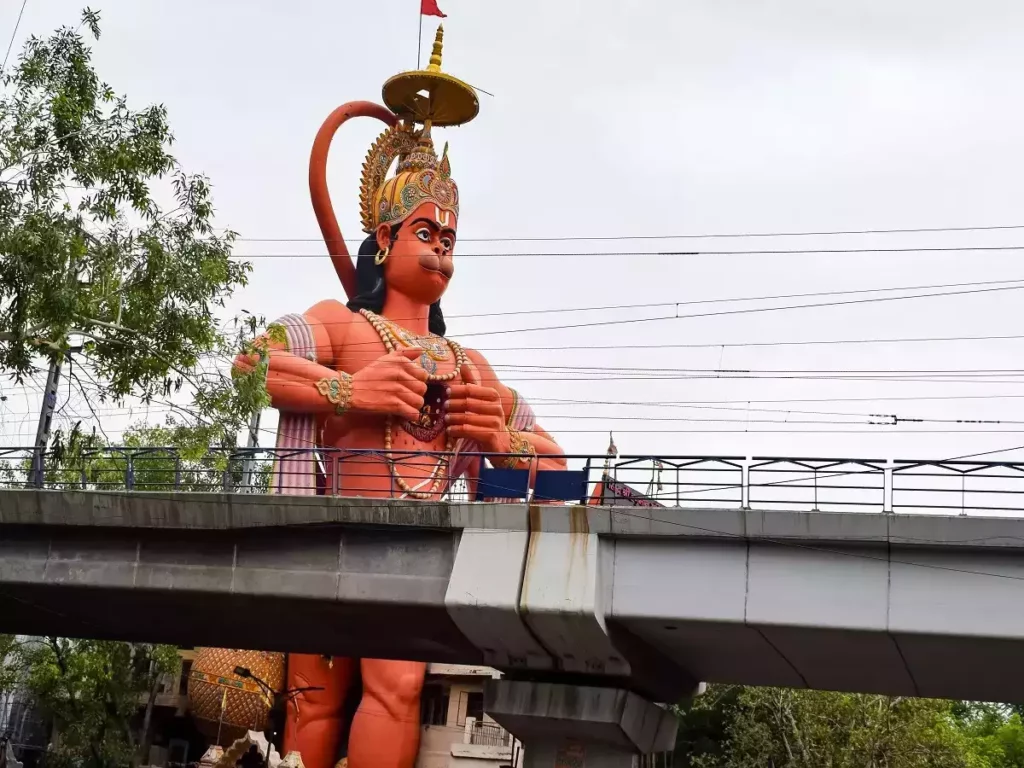 It is one of India's holiest Hanuman temples, situated in Connaught Place, New Delhi, India. This ancient temple is claimed to be one of the five temples created by Pandavas during the Mahabharat days in Delhi (Indraprastha).  Sri Hanuman Ji Maharaj is the name given to the temple's self-manifest idol of Lord Hanuman.
3. Balaji Hanuman Temple, Mehandipur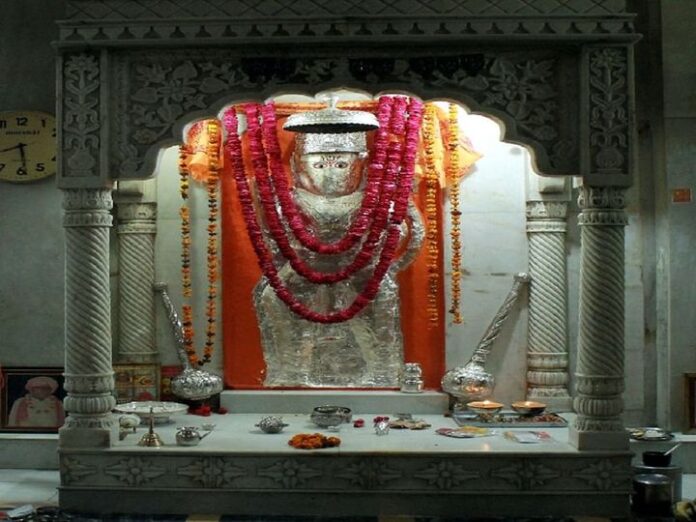 Balaji Hanuman mandir is located on the border of Karaui District and Dausa District, Mehandipur. In this temple, Lord Hanuman's childhood form(Baal Roop) is celebrated. This is one of India's most famous Hanuman temples. It is strongly believed that whosoever  suffering due to evil spirits come here get cured.
4. Kashtbhanjan Hanuman Temple, Salangpur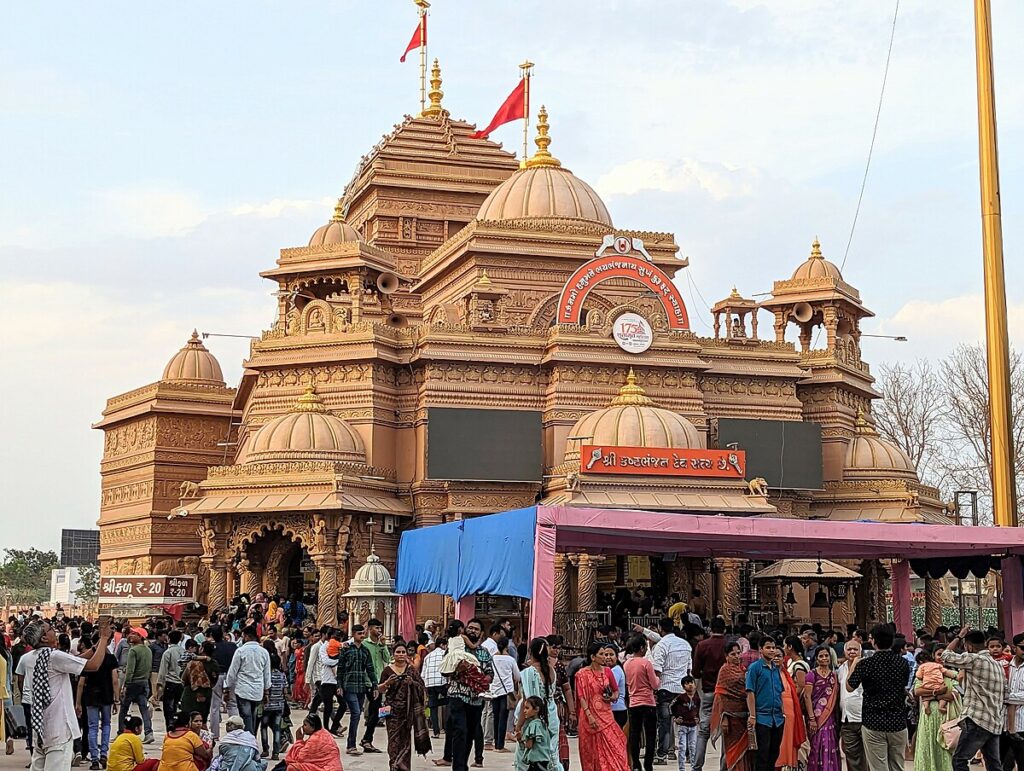 Located in Salangpur, Gujarat, Kashtbhanjan Hanumanji mandir is one of India's most famous Hanuman temples. In this temple, Lord Hanuman is referred as Kastbhanjan, which means the "Crusher of Sorrows." It is believed that if someone is suffering from malefic effects of Shani in their horoscope, then all the doshas are eliminated by worshipping Lord Hanuman.
5. Shri Hanuman Temple, Jamnagar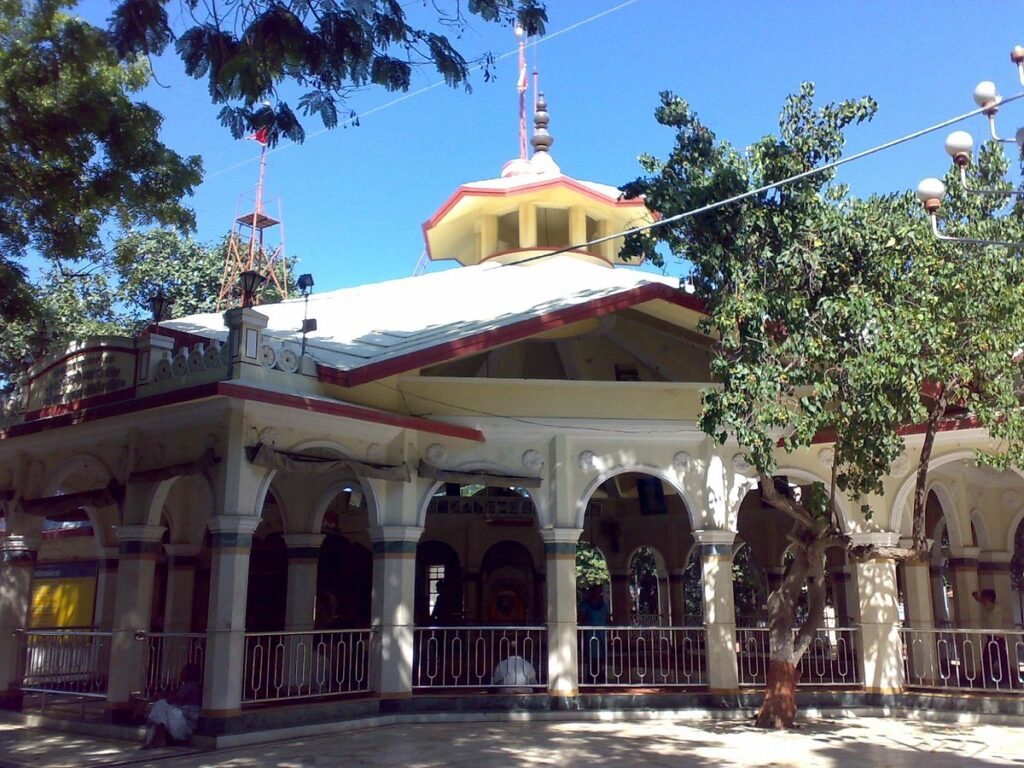 Shri Hanuman Temple is situated on the southeastern side of Ranmai Lake, in Jamnagar. The most divine experience in this temple is the continous chanting of the mantra (hymn) "Sri Ram, Jai Ram, Jai Jai Ram" since 1964, which also earned a place in the Guinness Book of World Records for non-stop chanting for continuous 24-hr Ram Naam. The chanting of the name of Bhagvan Sri Ram started on August 1, 1964. The chanting of Akhand Ram Naam was started by late Shri Prembhikshuji Maharaj.
It is one of the oldest temples in Jamnagar and thousands of devotees visit every year to seek blessings of Lord Hanuman.
6. Salasar Hanuman Mandir, Salasar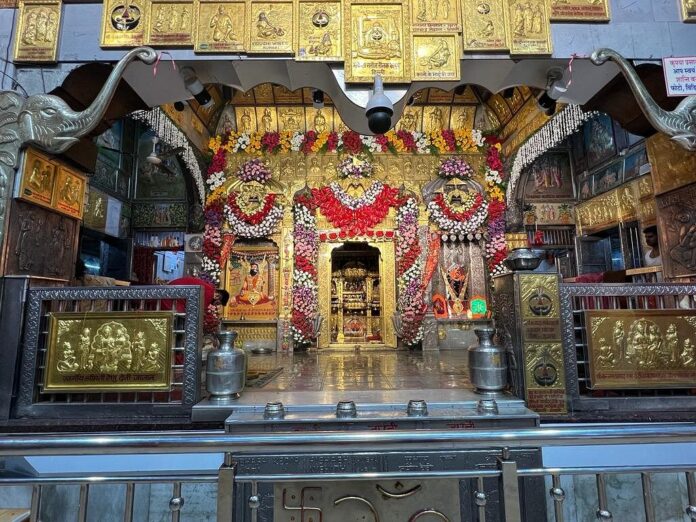 Salasar Hanuman temple is is the only Hanuman Ji temple in India with a beard and moustache. It is a religious place for devotees of Lord Hanuman. This temple is located in the Salasar Town of Churu District in Rajasthan, India.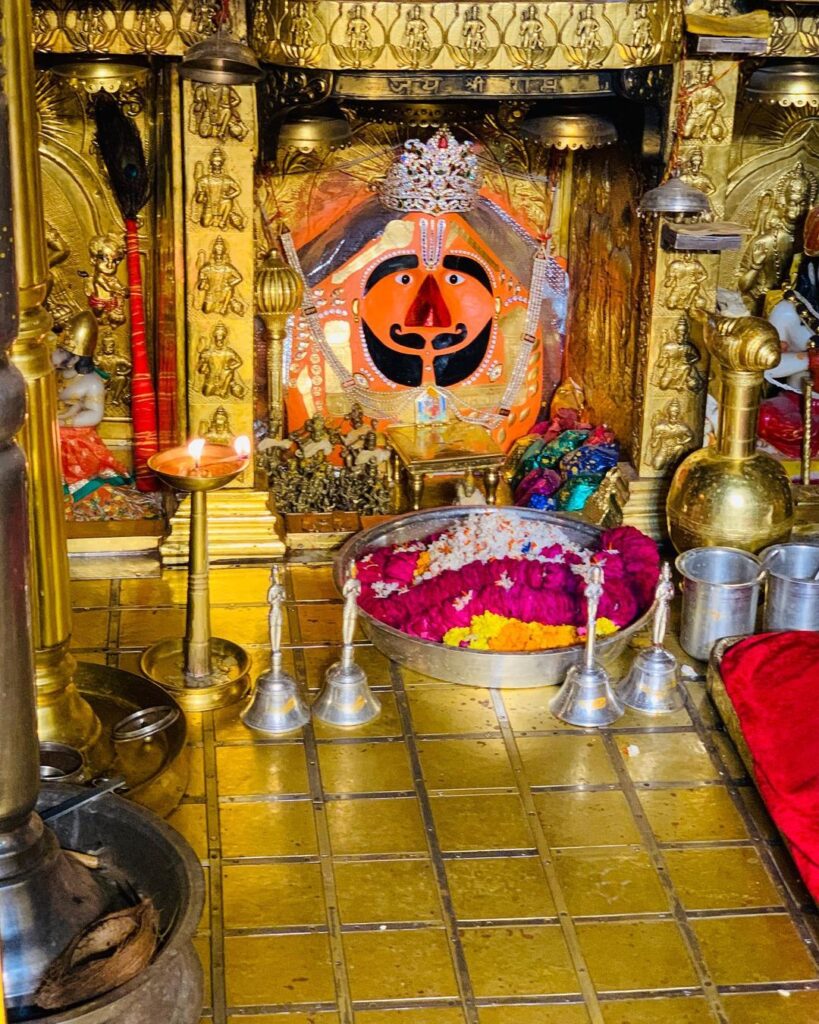 Every year, people come from all over India to attend fairs organized during the months of Chaitra and Ashwin. Every year in Salasar Dham, two fairs hosted every year in the premises surrounding the temple that attract a huge crowd. held on the occasion of Chaitra Purnima and Sharad or Ashwin Purnima.
7. Hanuman Dhara, Chitrakoot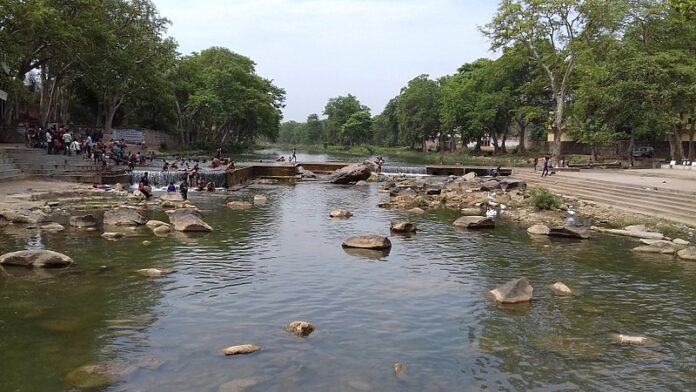 Hanuman Dhara is one of the Holiest temples in India, holding great religious and historic importance. It is situated in BaghelKhand region, located about 3 km from Ramghat. Inside this temple, there is also a small structure named as Sita Ki Rasoi, where it is believed to be the place where Sita cooked food for her family for the first time after her marriage to Lord Ram. There are also some utensils that have been put on the display for decorative purpose. Also Chitrakoot is the place where Lord Rama performed the last rites of his Father Dasharatha and also persuaded by his brother Bharat to return to Ayodhya.
8. Lete Hanuman Mandir, Allahabad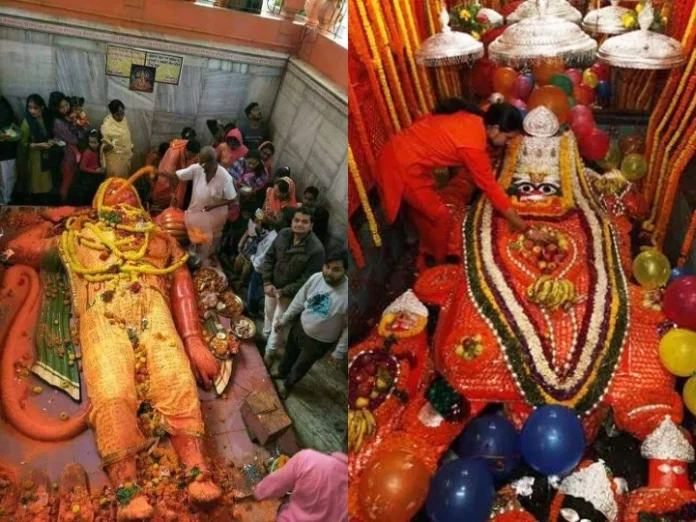 Shri Lete Hanuman Ji, commonly known as Bade Hanuman Ji, is one of the most famous temples in India. It is believed that whosoever visit this temple with devotion and a pure intention their wishes get fulfilled. It is located near Triveni Sangam beside Allahabad Fort in Prayagraj, India. The Hanuman Ji in this temple is placed in a supine position or veer-mudra; that's why it is known as Lete Hanuman Ji. It is the only idol of Lord Hanuman in a sleeping position.
9. Mahavir Mandir, Patna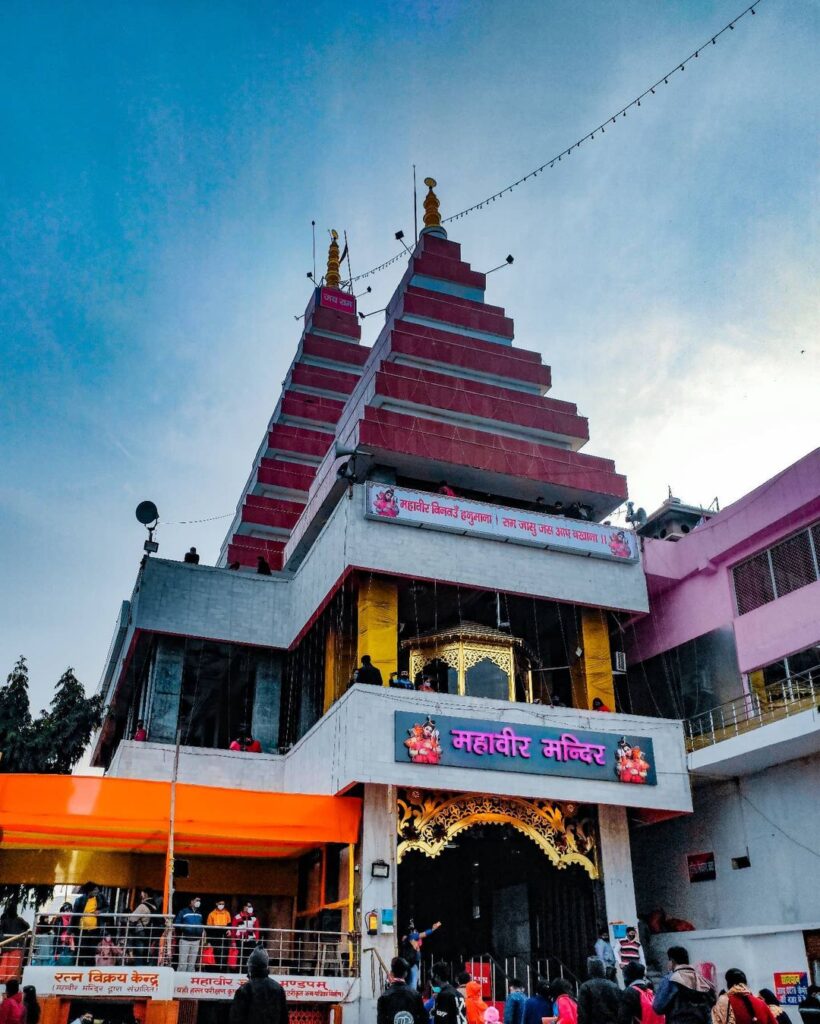 Devotees from all over the world come to this holy temple, attracted by the unshakeable belief that their prayers will be answered. The chants of "Jai Shri Ram" and "Hanuman Chalisa" create an atmosphere filled with devotion and positivity.
For a matter of fact about Mahavir Mandir of Patna, this temple holds a unique distinction, being the only one in the world with two images of Hanumanji – one for 'मनोकामना-पूरण' (fulfilling all desires of devotees) and another for 'दुख-हरण' (annihilating all miseries). Devotees belief that visting this temple once will attain their every wish and eliminate their miseries through worship.
Moreover, Mahavir Mandir actively engages in charitable activities, echoing Lord Hanuman's spirit of selfless service to humanity. It runs Mahaveer Cancer Institute, Mahavir Arogya Sansthan, Mahavir Netralaya, and Mahavir Vatsalya Hospital, all for the public's well-being.
Hanuman Mandir is a symbol of unwavering faith, where hearts connect with the divine. You must visit these temples once in a lifetime to experience this sacred energy and bask in the presence of Bajrangbali, the epitome of devotion and strength. Jai Shri Ram!
As a devoted follower of Lord Hanuman, I am always thrilled to share the profound enchanting aura of Lord Hanuman. We have an article on 10 Unknown And Interesting Facts About Lord Hanuman, you can also give it a read if you like this article.