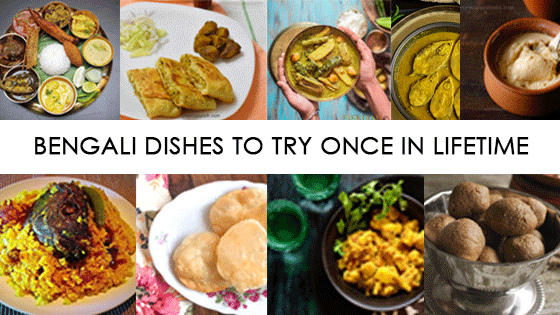 Bengali food reminds us of sweets like Roshogollas and Sandesh. But there are more surprises when it comes to Bengali cuisines. Bengali Food is not just food; it's pure emotion! You can see the glitter in Bengalis eyes once they start talking about their culture and their food. It merely shows how much they love it.
If you have a Bengali friend, then you should self invite yourself and insist on his mother to make you the most delicious dishes you can't even imagine.
From starters to the main course followed by dessert, Bengali's have plenty of options for foodies like you and us.
Make sure to try these dishes once in your lifetime; you won't regret it!
Bhetki Macher Paturi
Fish lover? Try this dish; it's a fish delicacy made by coating it in mustard. In the early 1600s, the term 'mustard' was a figure of speech for something extremely powerful; thus, the mustard which has a dominating and distinct taste, is an essential ingredient for this dish which makes the fish spicy. The main attraction of this dish is that the fish is wrapped in banana leaves and steamed. Since it's steamed, it makes the fish soft and juicy. Once you try this dish, there is no turning back!
Chingri Macher Malaikari
Malaikari! Yum. The word itself is always close to every Bengali's heart. Malai means cream and Kari means curry. It is a classic Bengali dish where the Prawns are cooked with raw coconut or coconut oil to make the dish creamy and delicious. It has a sweet and sour taste with soft and juicy Prawns. If you are a seafood lover, you are going to love this preparation.
Daab Chingri
Are you one of them who is looking for something fancy as well as delicious? And you are a seafood and coconut lover? Bengalis have just the right dish for you. Daab Chingri is a dish which is made by cooking the prawns in mustard and serving them in a tender coconut (Daab) to get the combined flavours. Unbelievable right? You must try this dish once in your life.
Mughlai Paratha
The Mughlai Paratha is a rectangular paratha made with maida but folded like an envelope. The thin-layered, deep-fried paratha consists of a rich filling of eggs, keema and lots of spices. Potato curry along with sliced cucumber & onions usually accompany the parathas. And it is almost impossible to resist eating this meat-filled deep-fried egg parathas unless you are on a strict diet.
Shukto
If you are a foodie, but on a diet, then Bengalis have delicious and healthy food as well. Shukto is an authentic Bengali dish, usually served as the first course of a meal. It is one healthy and wholesome dish prepared with brinjals, bitter gourd, sweet potatoes and 'bodi'. Freshly grounded spices and milk added to it gives a thick texture to the tasty gravy.
Muri Ghonto
Muri in this dish means Fish Head. So this dish is a mixture of fish head, rice and potato chunks. Muri Ghonto tastes heavenly. When you try this dish, don't forget to eat it with green chilli and a small piece of lemon!
Luchi
In other states, people know it as Puri, and they think there is no difference between Puri and 'Luchi'. But there is! The Bengalis make the Puri with Maida instead of Atta which makes it more delicious. It's rare to find a Bengali family not having 'Luchi' as their Sunday's breakfast. These are round, fluffy, white, and very hard to resist if someone is offering.
Illish Bhapa
Well if you ask a Bengali about his favourite fish, it will be Illish. Bhapa means steamed, and this preparation is not only about steamed fish. There is more to it. The Hilsa fish is steamed in strong mustard, yoghurt and coconut paste. By now, you must be thinking that Bengalis love the preparations with mustard right? Well, these dishes will show you why they love it. Just give it a try with hot steamed rice, and you will know.
Alu Posto
Bengalis love poppy seeds. They call it Posto! Believe it or not, poppy seed makes the food so much tastier! Alu Posto is a preparation with potatoes and poppy seeds with red and green chillies. It is truly one of the classic Bengali dishes you must try.
Potoler Dolma
Bengalis know how to make a boring food taste better. Potoler Dolma can beat non-vegetarian dishes! This recipe involves the pointed gourd being hollowed out and stuffing it like mutton keema or paneer keema and then cooking it with a little gravy. This dish has a combination of sweet and spicy taste and will completely change your perspective towards Potol or pointed gourd.
Jalpai er Chutney
It is a pure delicacy. Spicy, sweet and tangy Chutney recipe with boiled Jalpai cooked with sugar. You can have this add-on dish after your main course or if you like, with your main course. If you have something spicy in your plate, then this add-on will bring some sweetness to your plate and an exceptional experience.
Well, Bengali meals are incomplete without a sweet dish. So to make your experience a complete one, don't forget to try these sweet-dishes and several more which you will surely come across without fail if you are exploring Bengali food.
Nolen Gurer Roshogolla
If you are thinking of trying this dish, try this in winters because this dish is a winter preparation. As the name has Roshogolla in it, it's clear that it's sweet just like Roshogolla. But the only factor which makes this dish different is the flavour. Nolen Gur is basically indigenous date palm jaggery. For bongs, winter means Nolen Gur, so if you love sweets, don't forget to try this sweet.
Misti Doi
Everyone knows about Misti Doi, but there are a few non-Bengali's who have not tasted this sweet. For Bengalis Misti Doi is like Sunday's dessert after lunch. If you receive an invitation to a Bengali's house, there is a chance they will serve you Misti Doi instead of Ice cream, and if you say no to it, you are going to regret it for sure. Because Misti Doi is the most elegant sweet, to be honest, it's a refreshing dessert with a creamy texture. The use of Malai at the top usually gives the final dish a thick covering on top. You can also have Misti Doi with rice, its pure heaven foodies!
Generally, people have this misconception that Bengali food is all about sweet dishes, but it's undoubtedly not. Bengalis love Spicy and Sweet food as well; they love combinations and varieties. Share your views after you have tried these dishes and let everyone know what else they can try out.