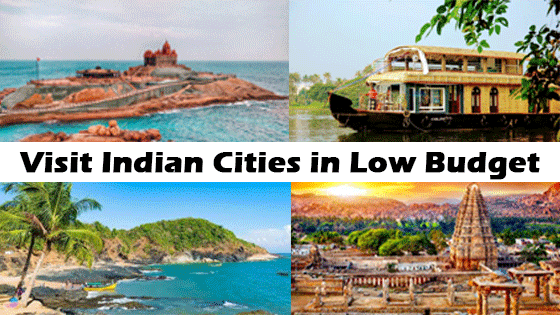 Do you know the feeling when long weekends or holidays approach, and there is simply that itch to bunk college or work and leave for a trip with friends? And you google the photos and find that the budget is way out of your league. But you should not forget that you are in India, a country full of dramatic landscapes, scenic delights, tasty food, adventurous activities and varied experiences. From the North of India to the South, some places will give you a soul-stirring experience without burning a hole in your pocket. We have brought you this list of places one can explore on a shoestring budget in India.
Alleppey – The Venice Of The East
Alleppey, the Venice of the East, is incredibly renowned for its verdant countryside, lagoons and the waterways, beautiful backwaters, and more. The city of Alleppey in Kerala is also renowned for its beaches, temples and traditional boat races. But what we want you to know is that it offers cheap stays and very reasonably priced yet delicious meals.
Best Time: June to March
Kanyakumari – The Southernmost Tip
The merger of the Arabian Sea, the Bay of Bengal, and the Indian Ocean are just mesmerising! You have to behold it, to believe it! You can never afford to miss the Vivekananda Rock Memorial and the breathtaking sunrise and sunsets there. This destination certainly proves to be one of the best budget trips in South India.
Best Time: October to February
Gokarna- Land of Palm Trees
With the pristine beaches and breathtaking landscapes, Gokarna, a Hindu pilgrimage town in Karnataka is now a newly found centre for beach lovers and wandering hippies. It also has very affordable inns and restaurants with a divine menu of mouth smacking cuisines. This trip will be one worth taking.
Best Time: Throughout the Year
Hampi – The Forgotten Empire
Relive the Vijayanagar history by wandering around Hampi and perch on the omnipresent huge boulders to survey the land around you. Roam around the ruins and let the historical sites leave you spellbound. Hampi Utsav will be a vibrant experience if you happen to visit the place in the first week of November.
Best Time: November to February
Ooty – The Queen Of Hills (South)
The senses exult here amid the exotic botanical gardens, Rose garden, verdant hills, historical buildings, tea plantations and of course, homemade chocolates.
Best Time: December to February
Pondicherry – The French Town
Why shell out thousands when you can experience France with an affordable trip within India? That's true; you can experience a low budget trip to Pondicherry, where you get the French flair right here in India. During the day, walk the cobblestoned streets and in the evening experience the innumerable beach cafes. And yes, French food here is remarkable so don't forget to taste it once. It's all value for money and worth your experience as well.
Best Time: October to February
Kasol – The Heaven's Gateway
A small village in Himachal Pradesh situated along the banks of the river Parvati, Kasol is a tourist spot that is rapidly gaining fame as a trendy hub for trekkers, backpackers, and nature lovers. Commonly, this place is known as the Amsterdam of India. You will locate a German bakery in the centre of this little hamlet which serves some of the best bakery items you will ever taste. Visiting Kasol will make you feel like you are in the laps of mother nature.
Best Time: October to June
Digha – The City Of Underwater World
This town in the state of West Bengal is known for its marine life. Digha is renowned as the beach resort town in West Bengal, and visiting this place is a must if you are looking for a budget-friendly trip. This unexplored beach town is a good deal for those looking for a peaceful travel experience.
Best Time: December to March
Darjeeling – The Land Of Thunderbolt
Heading to Darjeeling from New Jalpaiguri or Siliguri is a remarkable experience. Once up in the hills, take in the salubrious air, sip the hot Darjeeling tea, and let out all your worries of life. Wake up early and enjoy the rising sun at Tiger hills and the white delight from the snow-covered mountains and get ready to be mesmerised by the magnificent Kanchenjunga. And celebrating New Year in the mountains is an excellent escape for those who want to give their life a fresh start.
Best Time: December to February
Lonavala – The 'Chikki' Town
Are you looking for a quick getaway from Mumbai? Plenty of hikes, numerous waterfalls, beautiful grasslands, and those moist hilly slopes in the monsoons with the delicious chocolate fudge and a treat of chikki, promises a memorable experience. There are exciting treks to try and several forts to visit. Of course, it does not come for free, but it still is one of the best budget travel destinations in India, primarily if you hail from Mumbai.
Best Time: September to January
Irrespective of whether you are an employee, a college student or want a quick budgeted getaway or looking to scale several destinations with little money, this list of budget trips in India will come in handy. So, pull up your socks, wake those lazy buddies up, pack your bags, and go for some fantastic budget-friendly holidays in India and don't forget to post your pics in the comments section for others.