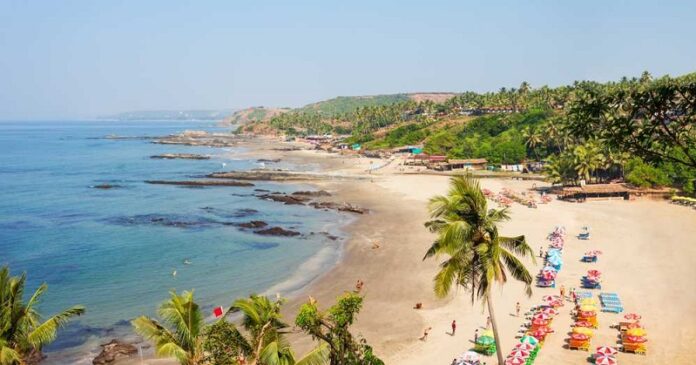 Goa is more than just beaches and clubs; it also has a splendid side. There are numerous goa visiting places and notable tourist attractions in South Goa that can give you a new viewpoint. If you've had your fill of partying, head to one of South Goa's tourist attractions for some peace and quiet. The adjective that springs to mind when describing South Goa is "laid-back." Visitors travel from all over the world to enjoy the laid-back lifestyle, beautiful beaches, and medieval villages in these Goa visiting places. South Goa is a good location to start when examining the rich Portuguese architectural tradition.
Here are the 20 exciting visiting places in South Goa to explore on your next trip:
1. Dudhsagar Falls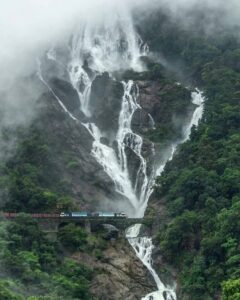 The Dudhsagar Falls is one of India's tallest waterfalls that is located in the Mollem National Park. It is one of the most attractive visiting places in goa. The magnificent falls are located 60 kilometers inland on the Goa-Karnataka border. Interestingly, they are around 60 kilometers from Panaji. The 310 m high Sea of Milk waterfall got separated into four stages on the Mandovi river and resembles a massive flood of milk spilling down the slope. Tourists get attracted to this one of the best visiting places in South Goa.
2. Vasco Da Gama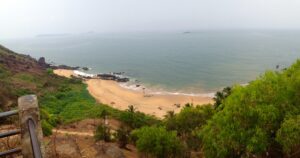 Vasco Da Gama is named after the legendary Portuguese explorer and is a gem in South Goa's treasure trove. This little village is located near the mouth of the Zuari River on the western extremity of the Mormugao Peninsula. It has the reputation of Goa's crime capital due to its suburban shantytown and massive red-light district. However, Vasco manages to pique tourists' interest by giving a unique perspective on the state's tourism. Aside from that, Vasco is well-connected to the rest of Goa. The best time to explore the place is around November to March. This is one of the most peaceful visiting places in goa.
3. Se Cathedral Church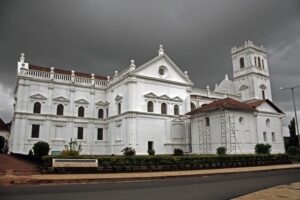 In Goa's southern region, the "Se Cathedral" is one of the country's most magnificent cathedrals. This gorgeous cathedral exemplifies superb Portuguese-Manueline craftsmanship with its beautifully arched interior and a large courtyard. The cathedral used to have two towers, but one of them got demolished and never restored in the late 17th century. The church's appeal got enhanced by the excellent piece of art as well as the fine woodwork in the interiors.
4. Butterfly Beach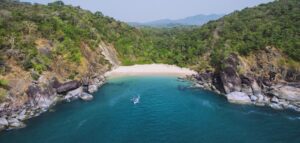 The Butterfly Beach is located just south of Palolem in Goa's Cancona district. Honeymoon Beach, as it is often called, the shape is like a small cove and got surrounded by thick flora. The butterfly beach is one of Goa's most secluded and lesser-known beaches that can only get reached by boat (ferry) from nearby beaches. It gets enclosed on one side by a dense forest and connects to the open sea on the other. That is why the beach offers a unique and scenic location.
5. Our Lady Of Remedios Capital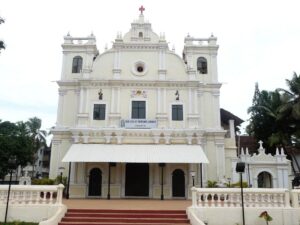 The Jesuits founded Our Lady Of Remedios Capital in the 17th century, also known as the Betalbatim Church. The Church is well-known for its lovely architecture, well-kept gardens, and serene ambiance. The church's masses are a major source of joy, drawing a large number of peace seekers on a regular basis. People get attracted to this one of the most exciting visiting places in South Goa.
6. Cabo De Rama Fort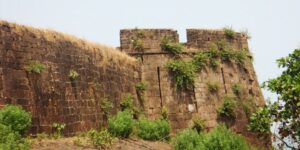 Cabo de Rama is a 17th-century Portuguese fort in South Goa's Canacona district that is inked to the Ramayana mythology. During their 14-year exile, Lord Rama, Goddess Sita, and Lord Lakshmana have dwelt at the fort. Despite the fact that it is mostly in ruins, the fort is a famous tourist attraction since it provides a breathtaking perspective of South Goa. It is one of the famous South Goa visiting places.
7. Netravali Waterfalls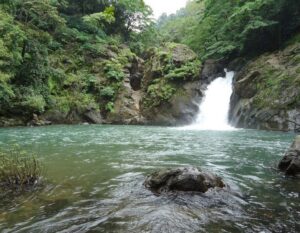 Netravali Waterfalls is one of Goa's most stunning waterfalls, encompassing 211 square kilometers of protected territory. It is located within a nature preserve and get protected from exploitation. It is a popular tourist destination in Goa with weekends being particularly busy.
8. Naval Aviation Museum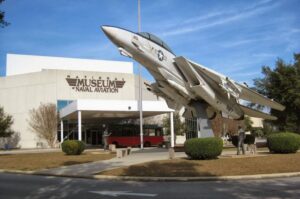 One of India's two naval aviation museums is the Naval Aviation Museum in Mormugao, Goa. It got established in 1998 to highlight the importance, operation, and evolution of the Indian Naval Air Arm. Decommissioned aircraft, armaments and weaponry, uniforms, vintage documents, and photographs are on display at the museum's beautiful outdoor and indoor galleries. People love to explore this one of the South Goa visiting places.
9. Goa Chitra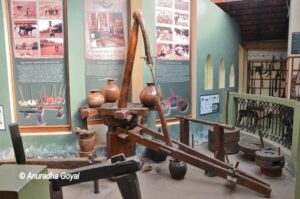 In Benaulim, the Goa Chitra Museum is an ethnography museum that highlights traditional Goan culture and way of life. The museum got founded by Victor Huge Gomez as a tribute to his Portuguese ancestors. Woodwork, metallurgy, swords, furniture, religious relics from Goa, and other keepsakes are among the 4000 objects in his collection. On the property, there is also an organic farm.
10. Shri Shantadurga Temple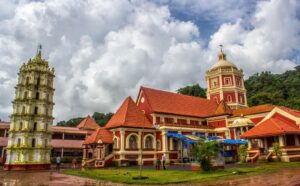 Shri Shantadurga Temple is one of Goa's greatest temple complexes and one of the best visiting places near Goa. It is devoted to Goddess Durga, the Gaud Saraswat Brahmins' patron goddess. Shantadurga is a goddess who acts as a mediator between Shiva and Vishnu. The golden palki (palanquin) on which the god gets carried about during the Mahapanchami festival is the temple's main attraction. Shantadurga Temple got made up of three smaller temples, each having a pyramidal roof and a dome. The temples' floors and pillars got made of Kashmiri stone. In 1715 AD, the temple got completed.
11. Kuskem Waterfall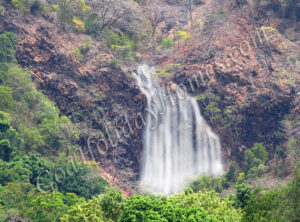 Kuskem Waterfall is located in the scenic Canacona district of South Goa that is a lesser-known attraction. It is around 20 kilometers away from the Cotigao Wildlife Sanctuary and is also noted for its natural beauty. It's a seasonal waterfall that looks best when it's raining. It's not a particularly enormous waterfall, but it has a unique appearance. Furthermore, in recent years, the Kuskem Waterfall in Canacona has got certified as an eco-tourism site, attracting a large number of visitors.
12. Varca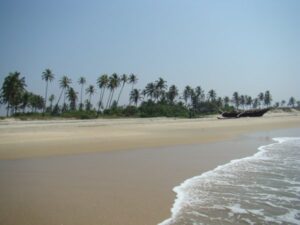 Varca is a popular tourist destination in South Goa because of its beach. Varca's beach is only a short distance away and is nothing short of beautiful view. With its palm trees, golden beach, azure water, and practically hawker-free shoreline, Varca is one of the most attractive places to visit in South Goa. There is an intriguing tourist attraction called Dunes, on Varca Beach at the Zuri White Sands Resort. It is one of the most Goa famous places to visit.
13. Rivona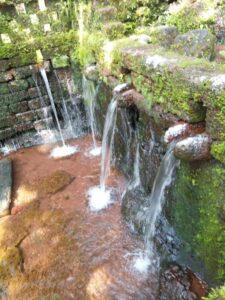 Rivona is a cultural, historical, and architectural center in the Sanguem taluka. It is one of the best visiting places near Goa. If you're looking for something else than beautiful beaches, Rivona is a terrific place to go. In South Goa, it is a less well-known and off-the-beaten-path destination.
If you want to immerse yourself in history, Rivona is a terrific place to go. It is one of South Goa's must-see sights. Rivona is famous for its mysterious caves which date back to the 6th century BC. It's also known as the 'Pandava caverns,' because the Pandavas, have lived here during their exile.
14. Patnem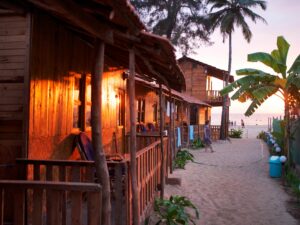 Patnem is a small but lovely beach in South Goa and also is an ideal spot for some peace and quiet time. It is bordered by cute beach shacks and offers plenty of surfing and swimming options. The magnificent kiosks border has the seashore that sells Kashmiri antiques and jewelry. The majority of visitors get drawn to Patnem because of its quiet environment and incomparable beauty.
15. Chandor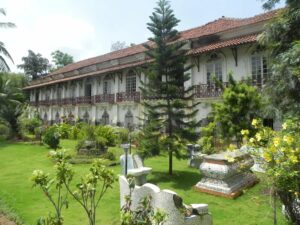 Chandor is a quiet town in South Goa on the banks of the Kushavati River. Because of its large collection of Portuguese architecture, this location has established itself as a prominent visit. Between the 6th and 11th centuries, this community was known as Chandrapur and gets regarded as the most beautiful city on the Konkan Coast. Chandor is presently a small community with remarkable Portuguese ruins. The Portuguese mansion in Chandor is a fantastic venue for weddings and parties.
16. Loutolim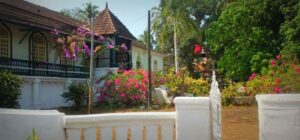 Loutolim is a great spot to see true Portuguese architecture in action. Although the slow-paced hamlet of Loutolim is a history buff's dream, most of the monuments are close to visitors. Two of the most popular tourist attractions in the neighborhood are the whitewashed Church Salvador do Mundo and Casa Araujo Alvares. The ancestral museum at Loutolim is also well-known. Another tourist attraction is BigFoot, a tourist attraction where you can make a wish by touching the BigFoot mark on the rock.
17. Pequeno Island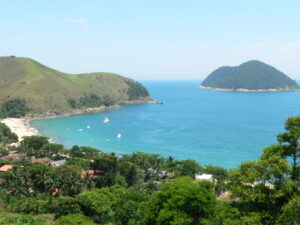 This unique and unappreciated tourist spot in South Goa that is sometimes known as Bat Island. It is one of the most Goa famous places to visit. It spans a broad area and features a beautiful rocky beach that can get viewed with the naked eye. This location is undoubtedly a haven for nature enthusiasts and adventure seekers wishing to spend some time among nature's most stunning sights.
18. Colva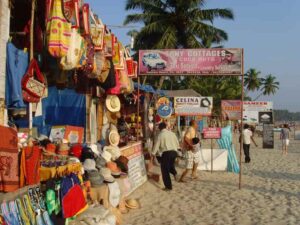 Bright lights swirl throughout the market, lending whimsy to the scene. It is one of the top South Goa destinations to visit. Due to the great variety of intriguing products available, the market attracts tourists and hippies. On your way to South Goa, you should stop by this one-of-a-kind market.
19. Bhagwan Mahaveer Wildlife Sanctuary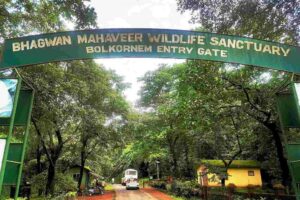 Bhagwan Mahaveer Wildlife Sanctuary got founded in 1978 and is considered one of the greatest South Goa tourist attractions. This animal refuge got formed in 1969 and was previously known as the Mollem Game Sanctuary. If you prefer birdwatching, you can see drongos, fairy bluebirds, and emerald doves, among other species. There are a variety of animals to see, including leopards and flying squirrels.
20. Wax World Museum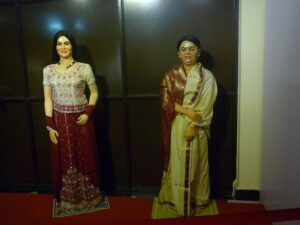 The Wax World Museum is a modest yet fascinating wax museum dedicated to figures made of wax. Because of the life-size statues of well-known actors and actresses from the film and television industries, the museum is worth seeing and one of the greatest locations to visit in South Goa. The museum also has wax statues of significant figures from Indian heritage and religion, in addition to Hollywood.