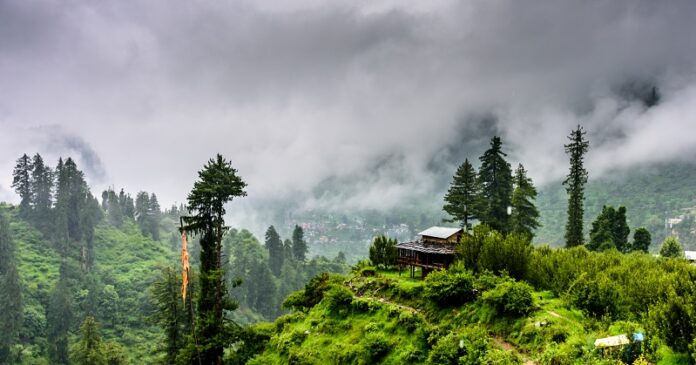 Manali is the most dynamic and picturesque location in the country. It is ideal for anyone looking to relax and rejuvenate in the midst of nature. Manali is truly Himalayan heaven. It is a hippie town nestled in the lap of the Himalayas in the gorgeous green Beas valley. While you are thinking what you need to do to make your next Manali vacation a success, we've put together a thorough Manali travel guide for you.
Places To See In Manali
1. Solang Valley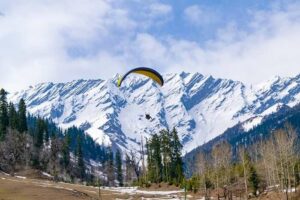 For anyone visiting Manali for a vacation, Rohtang and Solang Valley are two must-see destinations. Solang Valley is 14 kilometers north of Manali's main town. It is a well-known tourist destination in Himachal Pradesh. Every year, a great number of tourists visit the valley, which is located on the way to Rohtang from Manali. Solang Valley is one of the best Manali tourist places for explorers. It includes activities ranging from paragliding to horseback riding to driving mini-open jeeps geared for guests of all ages.
2. Old Manali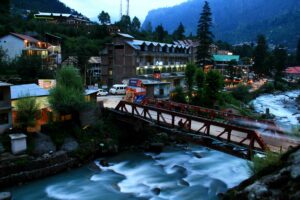 Old Manali is located 6589 feet above sea level and 3 kilometers uphill from Manali in Himachal Pradesh. It's a peaceful community nestled beneath a valley blanketed in apple orchards. Manali is divided into two halves by the Manalsu River: Old Manali and New Manali.
Old Manali is connected to the rest of the town by a river bridge. It is cleaner and less crowded than New Manali. Many tourists prefer to visit this site over New Manali. The tranquilly of Old Manali is unrivalled. With its swaying eucalyptus, softly meandering lanes, gushing waters of the Kullu river, and beautiful highlands, this region is the perfect natural getaway.
3. Jogini Waterfall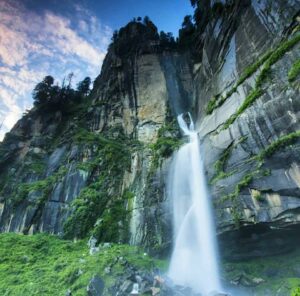 The gorgeous Jogini Waterfall is located in Manali's scenic Valley. It is approximately 3 kilometers from the bustling town and 2 kilometers from the famous Vashisht Temple. It is known as a popular tourist site because of the hike from Vashisht Temple through pine woods and orchards to the mesmerising Jogini Waterfalls, which cascade from a height of 160 feet.
As they cross many tiny streams with a wonderful view of the Beas River and Rohtang's snow-capped peaks, the hikers are enthralled. For nature lovers and adventurers visiting Manali's beautiful valley, the Jogini Waterfall is one of the best Manali tourist places
4. Hadimba Temple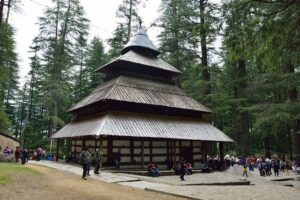 The Hadimba Temple is a one-of-a-kind shrine dedicated to Hadimba Devi, Bhima's wife and mother of Ghatothkach. It is situated among Manali's snow-capped mountains. This gorgeous temple is surrounded by lush cedar woodlands. This beautiful temple is built on a rock that is supposed to be in the image of goddess Hadimba herself. The Hadimba Devi temple is also known as Dhungari Temple. It stands out among the other temples because of its wooden gates, walls, and cone-shaped dome.
5. Sethan Valley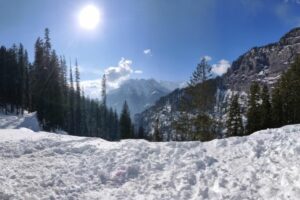 Sethan is a small village in Himachal Pradesh. It is around 12 kilometers from Manali. This Buddhist community has a view of the Dhauladhar mountain. Sethan Valley is an excellent place to try skiing and snowboarding. It is covered in snow all winter. That is why it is one of the places to visit in Manali for couples.
6. Van Vihar National Park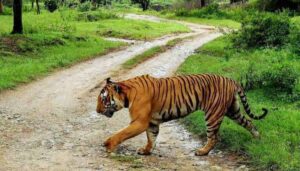 This park is one of the most beautiful places to visit in Manali. It provides a welcome break from the city's bustle. Even during the day, hundreds of sky-high deodar and pine trees shadow the sky and cloak the area in chilly duskiness. Besides, there are long nature walks accessible, where you can witness wild beetles and a variety of plant species. Also, there is a small pond where you can go boating in the midst of the singing birds and rustling winds.
7. Beas River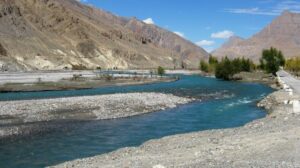 The Beas, is a sacred Himalayan river. It is an appealing addition to Manali's already breathtaking surroundings. There are stunning views of pristine streams, snow-capped mountains, and deep pine thickets. Besides, the sight of massive stone boulders strewn precariously amid the river's fast-moving waves is spectacular.
Rafting at the Pirdi section of the Beas' grade II and III rapids is a popular thrill-seeking sport. Moreover, there are fantastic night camping places all along the river. You can enjoy long walks along the lush riverbanks as well. It is one of Manali's most picturesque sites. Also, it is one of the places to visit in Manali for couples.
8. Jagatsukh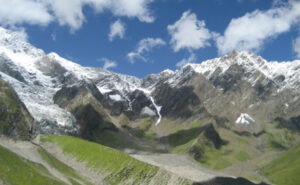 This Himalayan settlement is a holy place known for its ancient Shiva Temple in the Shikhara architecture and the Gaurishankar Temple. It is one of Manali's most fascinating destinations. These temples are believed to have been built in the seventh century. Travelers go to Manali's former metropolis to unwind in its valleys. They are surrounded by snow-capped mountains, meadows, apple orchards, and dense pine forests. Also, it is quite a popular place for day hikes and the start of the Deo Tibba trek.
9. Jana Falls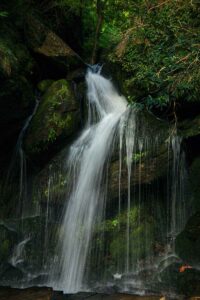 For nature lovers, these falls are a must-see. These are located in the scenic village of Naggar and are among Manali's most enchanting sites. The milky white waters contrast beautifully with the brown boulders and lush vegetation. Besides, it is descend from a height of around 30 feet. The surrounding blue skies, steep peaks, and meadows contribute to the magnificence experience of these falls. A beautiful wooden bridge near the falls is a terrific place to photograph the falls. Well, take a relaxing swim in the calming waters of the plunge pool.
10. Siyali Mahadev Temple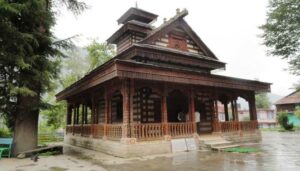 This ancient Shiva temple is noted for its intricately carved wooden architecture. Undoubtedly, it is one of the most popular places to visit in Manali. The dark brown tones of the temple contrast dramatically with the snow-capped mountains and vegetation. Chalets, four-level pagodas, carved pillars, and doors may be found inside the temple. A gorgeous wooden frame surrounds an old Shivalinga inside the temple.
Adventure Activities At Manali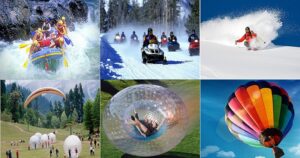 One of the nicest things to do here is participating in adventurous activities. Manali has become a hive of exciting summer and winter adventure activities. The crowds of people rush to the hippie town from across the country for a taste of adventure. Manali is the starting point for several beautiful treks in the Vashisht, Beas, Parvati, and Kullu valleys. If hiking isn't your thing in the summer, try zorbing, paragliding, biking, rafting, or mountaineering. Winters are nice since skiing and snowboarding are available.
Food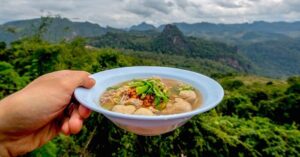 One of the most enjoyable things to do in Manali is to sample the excellent cuisine. Himachali food is rich and spicy. It has a heavy coating of spices like cardamom, cinnamon, turmeric, and coriander powder. A number of local restaurants in New Manali serve delectable Himachali food. The cafes in Old Manali feature superb continental cuisine if you're searching for something a little more modern. Besides, you can try Thukpa, Momos, and soups in Tibetan cafes for more genuine experience in Manali.
Best Time To Visit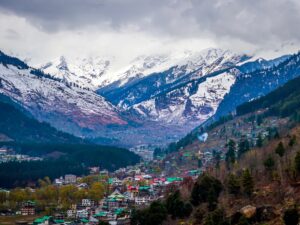 Summer is the perfect season to visit the hippie town. You can just get away from the heat of the city life. Temperatures can exceed 25 degrees in the months of March and June. Be advised that landslides are a risk during the rainy season. Cuddling up next to a bonfire with your sweetheart when the temperature dips below zero degrees in the winter is one of the best things to do!
Transport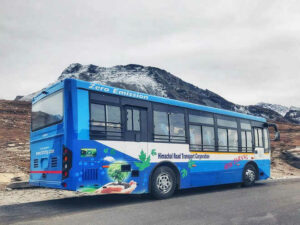 If you want to fly, the nearest airport is Bhuntur in Kullu. From the airport, you can rent a cab to take you to Manali. It is around 50 kilometres away by road.
If you want to enjoy the train journey, then Joginder Nagar is the closest train station to Manali. You'll need to rent a car to get to Manali, a hippie enclave.
If none of the other options appeals to you, the best way to get to Manali is to travel by road. Tourism in Manali is booming. So, there are lots of buses available to get you there. You can, however, plan a wonderful road trip to this place and stop along the way to Manali to enjoy the sights.