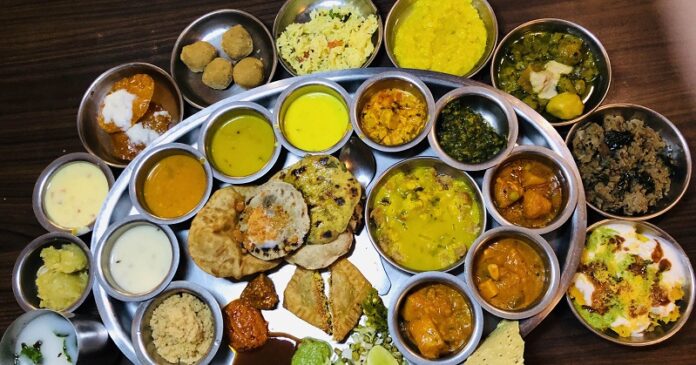 Every state has its own distinct cuisine, which we should all sample. The state of the Royals is one such state that stands out. Rajasthan is, as you may have guessed, a state in India. The state has a long history of serving as a residence for royal families. A non-Rajasthani will be amused by the palaces, the magnificent architecture, and, of course, the food in Rajasthan. Rajasthani cuisine distinguishes out among a variety of different cuisines.
Here is the list of some of the best Rajasthani food items.
1. Dal Bati Churma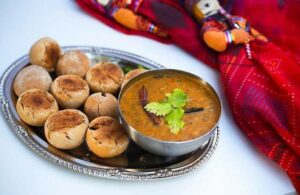 Rajasthan's most famous dish is Dal Baati. Due to its widespread appeal, almost everyone is familiar with this meal. The best thing to eat for dinner is crispy batis grilled over an open fire. This dish will almost always be included in a traditional Rajasthani food thali. The name alluded to the meal's three components. 
Best Served With:

The dish is a full dinner in and of itself, with a savory and sweet flavor profile.
2. Gatte Ki Sabzi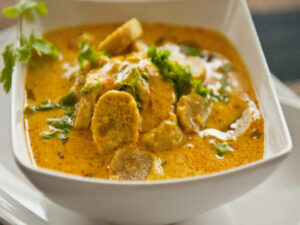 Gatte ki Sabzi will pleasantly surprise you if you are not a vegetarian. The flavor of the Gatte ki Sabzi simply blew me away. Gram flour or besan is used to make the dish's Gatte. The gatte is then boiled until it floats. After that, they chop them into equal pieces to put in the curry.
Best Served With:

Because the meal is generally thick and spicy, it pairs well with chapatis and parathas.
3. Ker Sangri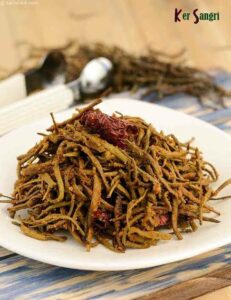 Rajasthani cuisine is known for its acidic and spicy flavors. Ker berries and Sangri beans are the major ingredients in this recipe. Rajasthanis buy them as dried ingredients and soak them before using them in their recipes. 
Best Served With:

Ker Sangri is typically eaten with roti, bajra roti, chapati, or steaming rice.
4. Laal Maas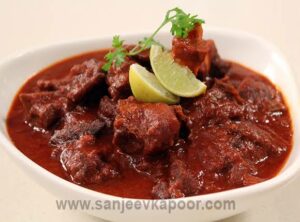 Rajasthan, as I already stated, is the land of the Royals. The kings preferred their foods to melt in their mouths when they went hunting. Laal maas' deep crimson curry serves as a remembrance of the custom. It's a Rajasthani mutton dish that's been passed down through generations.
Best Served With:

A perfect bajra roti is ideal for serving with laal maas, but you can also use plain wheat roti or even rice.
5. Methi Bajra Poori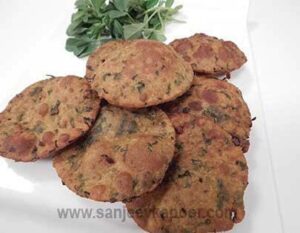 It is sometimes substituted for wheat flour. During the winter months, when the weather is cold and you need something to warm you up, this delicacy is available. This Rajasthani food item is made with Bajra flour and fenugreek leaves instead of wheat flour. 
Best Served With:

They go well with aloo sabzi or other similar sabzis and pickles, just like any other poori.
6. Aam Ki Launji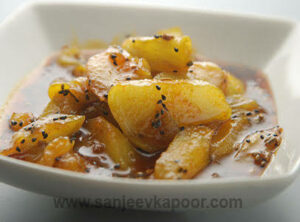 Isn't it true that we adore mangoes in all of their forms? Mangoes are India's king of fruits, and everyone has their own version of a mango meal. Rajasthani cuisine includes dishes like Aam ki Launji. We can relate it to Bengali aam chutney. Almost everyone like the meal because of its acidic sweetness.
Best Served With:

You can eat the meal with your chapati or roti, or just a spoonful on its own.
7. Pyaaz Ki Kachori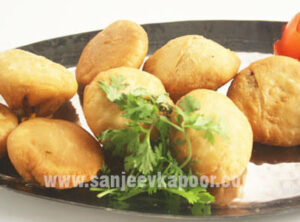 I find the concept of kachori amusing. Almost every place I've visited has its unique variant. The pyaaz kachori is a popular dish in Rajasthani cuisine. It's a deep-fried meal like any other kachori, but the filling is the star. The filling is made composed of onions, as one could expect from the name.
Best Served With:

Any form of chutney goes well with this dish. At the sweet shop, they're typically served with tamarind or coriander chutney.
8. Lauki Kofta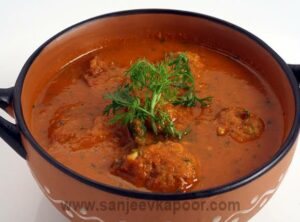 This meal is ideal for vegetarians who want their daily dosage of lauki with a twist. It's cooked with a variety of spices and finely grated lauki or bottle gourd. For better binding, some folks add paneer and perhaps a little maida. This dish's spice blend is out of this world, and you'll desire it once you've moved out of your parents' house.
Best Served With:

With a steaming plate of rice, it's a great combination.
9. Mawa Kachori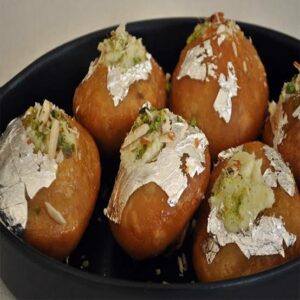 So far, we've just talked about the savory kachori. This is its sweet counterpart, as it is filled with mawa, a milk-based dessert. This kachori is popular in Rajasthan, and it is served during many festivals. They stuff it with dry fruits and sugar or jaggery in addition to the mawa.
Best Served With:

Mawa kachori is a dessert Rajasthani food that works well on its own.
10. Rajasthani Kadhi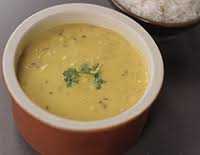 Kadhi can be found in a variety of forms all over India. Gujarat and Punjab, in addition to Rajasthan, have their own versions. Curd or yogurt, like other Kadhis, is the foundation. After that, the cook thickens the meal with besan. To make the kadhi even more delectable, some people add besan pakoras. The meal also has a lot of spices, which distinguishes it from other Kadhis.
Best Served With:

Kadhi is frequently eaten as a side dish with rice, or chapati.
11. Mirchi Pakoda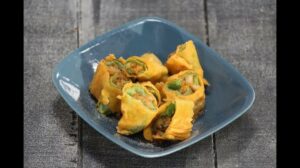 At first appearance, I assumed these large chiles would be extremely spicy. But I was utterly incorrect since they are very delicious. Rajasthan has large chiles, which are used in everything from curry to pickles to these wonderful fritters. The Mirchi, or chilly, is dipped in a besan batter before being cooked in hot oil. Inside the Mirchi, a filling can be added. These pakoras are a popular Rajasthani street snack that can be found primarily in Jodhpur.
Best Served With:

It's best served with a sour chutney, although tomato sauce works just as well.
12. Mohan Maas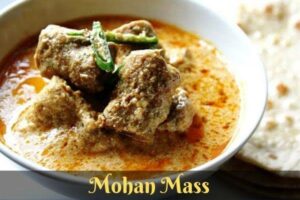 I can't leave Mohan Maas out after talking about Laal Maas at the start of this list. This dish's rich, thick gravy contrasts sharply with that of the laal maas. Peppercorn, coconut, and cashews are used to flavor the gravy. To add to the flavor, the cook adds milk and curd.
Best Served With:

Mohan maas goes well with roti and chapati as well.
13. Bajre ki Roti with Lehsun ki Chutney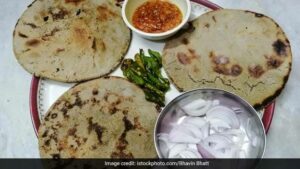 Rajasthan's winter crop, bajra, is very important. Because Rajasthan is primarily a desert, the crops are diverse. Bajra flour, commonly known as pearl millet flour, is widely used in Rajasthani cuisine. The ladies create the rotis by hand, and it almost takes on artistic quality. Bajra is difficult to manufacture because it does not contain gluten.
Best Served With:

As previously stated, it works well with lehsun ki chatni / Garlic Chutney, but Rajasthanis also eat it with curries, pickles, and various dals.
14. Bikaner Bhujia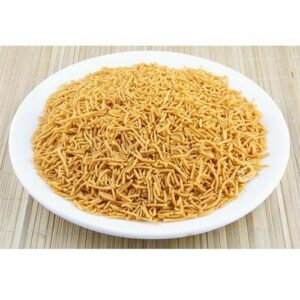 When it comes to Rajasthani Food Snacks, I believe this is an obvious pick. Because of their delicious snacks, Bhujiyawalas have become well-known throughout India. Hundreds of Prabhuji and Haldirams franchises have opened around the country. Bikaner's Bhujia stands out amongst the crowd. Moth beans and besan, as well as a variety of spices, are the key ingredients.
Best Served With:

You can eat them on their own since they are delicious.
15. Ghewar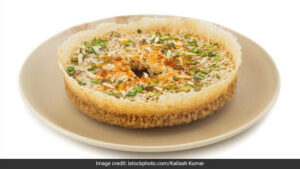 This is a fantastic dish that you may enjoy in Rajasthan, especially during the Teej and Raksha Bandhan festivals. The all-purpose flour or maida serves as the dish's foundation, which is subsequently steeped in sugar syrup. This meal is prepared in a special circular pan.
Best Served With:

Because it is a dessert, people serve it to the Gods. As a result, you can enjoy it after the conclusion of a good dinner.
16. Churma Ladoo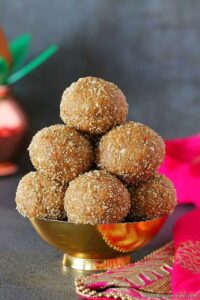 Laddoos, like Kachori in India, come in a range of shapes and sizes. Churma laddoo is a popular dessert in Rajasthan. Almost every festive tray includes a handful of churma ladoo. The dish's major ingredients are jaggery and wheat flour. The cook shapes the dough into precisely round balls once it has been made.
Best Served With:

It's a whole dessert in and of itself, and I'm sure you'll order several when you try it for the first time.
17. Dil Khushal / Mohan Thal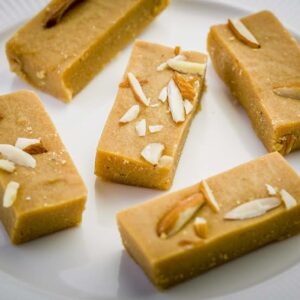 Tasting a royal dessert-like Mohan Thal after a hefty lunch is absolutely fantastic. As its name suggests, I am confident that this dish will make you happy. The base of this recipe, like many others on the list, is gram flour or besan. To make the sweet, flour is combined with sugar or jaggery, ghee, and mava. Dry fruits are used to improve the flavor of the dish.
Best Served With: After your Rajasthani meal, you can savor the flavor of freshly made Mohan Thal.
18. Badam ka Halwa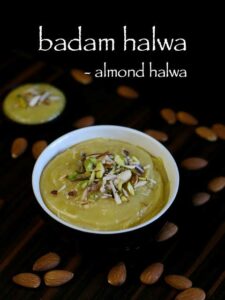 Rajasthan is known for its dry fruits, so there must be a cuisine that features them prominently. We can deduce from the name that badam or almonds play a significant role in this cuisine. The recipe is made by pureeing soaked almonds, then adding sugar, cardamom, milk, and other necessary components.
Best Served With:

After a hearty lunch, a hot plate of Badam halwa is a welcome treat.
19. Kalakand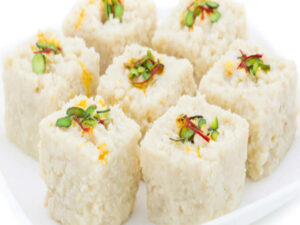 We've all had kalakand before, but the flavor of Rajasthani kalakand is distinct. This delectable mawa-dish never fails to please your palate. Kalakand of the highest grade may be found in Alwar, Rajasthan's lion gate. Despite the fact that this is an old sweet dish, its popularity is growing.
Best Served With:

It can be eaten as a snack or as a dessert after a meal.
20. Jaljeera drink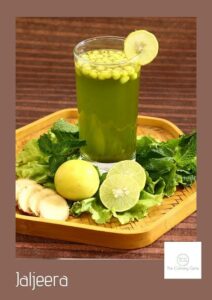 Everyone adores jaljeera drinks, from children to adults. Rajasthani jaljeera water, on the other hand, has a beautiful flavor. A glass of jaljeera water can help you cool down after a long day of traveling. The drink's chatpata flavor is what draws folks in.
Best Served With:

It's much great with a squeeze of lime on top.
21. Masala-Chhach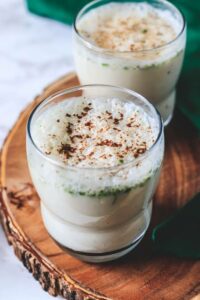 The masala-chhach is another interesting drink to try in Rajasthan. Buttermilk is another name for it. In Rajasthani cuisine, this is one of the most prominent dishes. Chhach is excellent for keeping your body cool in hot times. With Rajasthan being one of India's hottest states, a glass of chhach is an absolute requirement.
Best Served With:

People consume it for breakfast or lunch. You can also make it self-contained.
22. Bajra Ki Raab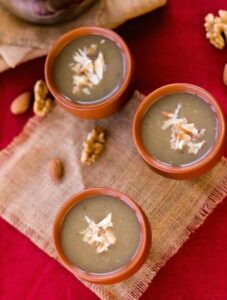 If you're seeking nutritious Rajasthani cuisine, a Bajra ki raab is a good choice. This is a unique cuisine that is very popular among vegans. It can, however, be consumed by anyone, vegetarian or non-vegetarian. This recipe is ideal for folks who are sick with a cold or cough or have a weak appetite. One of the reasons why Rajasthan food is so delicious.
Best Served With:

It's finest served with some sort of roti.
23. Malpua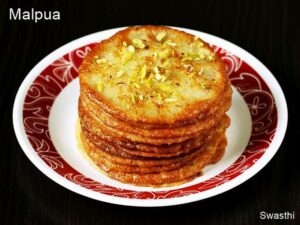 You've probably tried malpua from your mother's kitchen. Rajasthani malpua, on the other hand, is unique. In Rajasthan, this happens to a genuine meal. Milk, flour, khoya, and dry fruits are used to make this delectable sweet dish. Even a single piece of malpua will leave you wanting more. If you have a sweet tooth, malpua is a must-try in Rajasthan. One of the most famous food in Rajasthan.
Best Served With:

It tastes excellent with rabdi.
24. Balushahi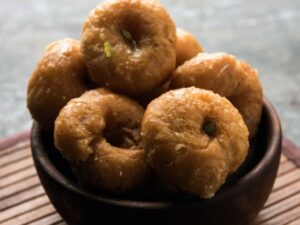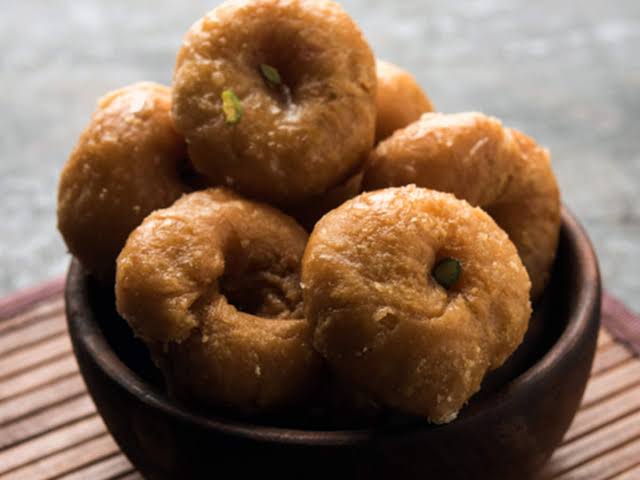 The Rajasthani people are known for their love of sweets. Another delicious sweet delicacy to try in Rajasthan is balushahi. Balushahi might be considered the Indian equivalent of glazed doughnuts. It has a semi-hard exterior with a soft and sweet interior that tastes fantastic.
Best Served With:

You can have it for breakfast or as a snack in the evening.
25. Haldi ro saag/ Haldi ki Sabzi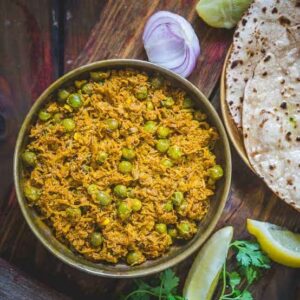 Haldi Ro Saag is the finest food to consume if you want a nutritious traditional Rajasthani sabzi that is rich in vitamins and minerals while still being spicy and delectable. This is one of the recipes that give you a taste of Rajasthani cuisine, which combines health and spices. Raw Haldi is grated and marinated with curd, spices, red chilies, and coriander seeds to make Haldi ki sabzi.
Best Served With:

Jowar roti, Missi roti, Bajra roti, tandoori roti, phulka or paratha are some of the options.
26. Boondi raita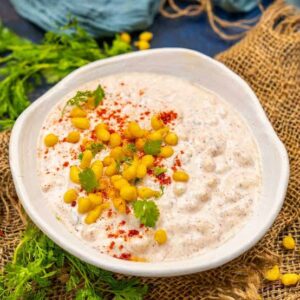 Raita is a classic Indian dish, but in Rajasthan, boondi raita is on another level. The wild spices and flavors give the dish a distinct flavor. This is the type of raita you've never had before. This dish is not only tasty but also nutritious. It's created using chickpea flour balls that have been steeped in yogurt and flavored with mint.
Best Served With:

It's meant to be served as a side dish. It goes well with roti of some sort.
27. Gujia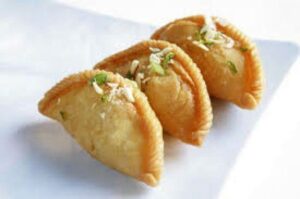 Whether you've visited Rajasthan or not, you've probably heard of this delicacy. This is a popular Rajasthani meal. During the festivals of Diwali and Holi, however, they can be found all around the country. However, if you want to experience the true taste of gujia, go for the ones baked in Rajasthan. In the mouth, the mix of dry fruits and khoya is delectable.
Best Served With:

You can have it as a snack in the evening.
28. Kalmi vada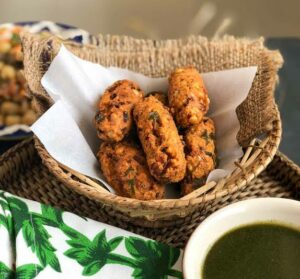 We can't forget about kalmi vada when it comes to Rajasthani snacks. This is a nutritious snack that not only tastes great but also keeps you satisfied for a long time. It's made with chana dal batter, which has been flavored with green chilies, spices, and onions. One of the most famous foods of Rajasthan.
Best Served With:

With green chutney, it's fantastic.
29. Jhajariya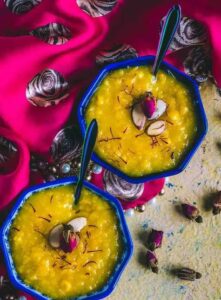 Finally, we have jhajariya, a traditional sweet delicacy from Rajasthan. Milk, ghee, corn, and sugar are used to make it. It's frequently served with almonds and raisins on top. This traditional Rajasthani meal can be found in practically any section of the state.
Best Served With:

You can eat it with roti or as a stand-alone dish.
30. Imarti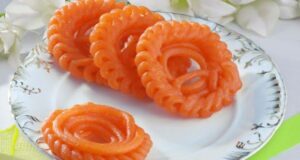 Imarti is a tasty Indian dish that is particularly popular in Rajasthan. Deep-fried vigna mungo flour batter is used to make it. In a kadhai full of oil, the batter is poured into a circular flower shape. It is then dipped in sugar syrup once it has been fried and ready. It goes by many different names, including amrita, imarti, and so on.
Best Served With:

You can eat it with or without a meal.